Today is my last day as an STA.
I've been apart of the team for 2 years, and it's been actually awesome the entire time! Like, I wasn't sponsored, paid, or REDACTED to say that! It's been relaxed yet structured, and has allowed me to work on various projects that supplemented my CS studies in super beneficial ways. I didn't end up taking any web related courses in my degree, but I was able to use what I knew and apply myself to learning new web frameworks and skills as I go. At my busiest, it was somewhat difficult to maintain work and school at the same time, but I can't imagine a job to have during school with as many pros outweighing the cons other than being an STA.
Also, even though I started out in person, and it felt like FOREVER during the first semester. I ended up spending the majority of my time as a remote STA…which flew by in what felt like just another semester…and ended up being 2.5 semesters and 2 summers…thus is life.
I'm proud of the work I've done and grateful for the experience and great spirit from everyone I've met during my time.
My final project was my favorite, Epic Similes, in which I got to work tons in the backend of complex data handling and templating.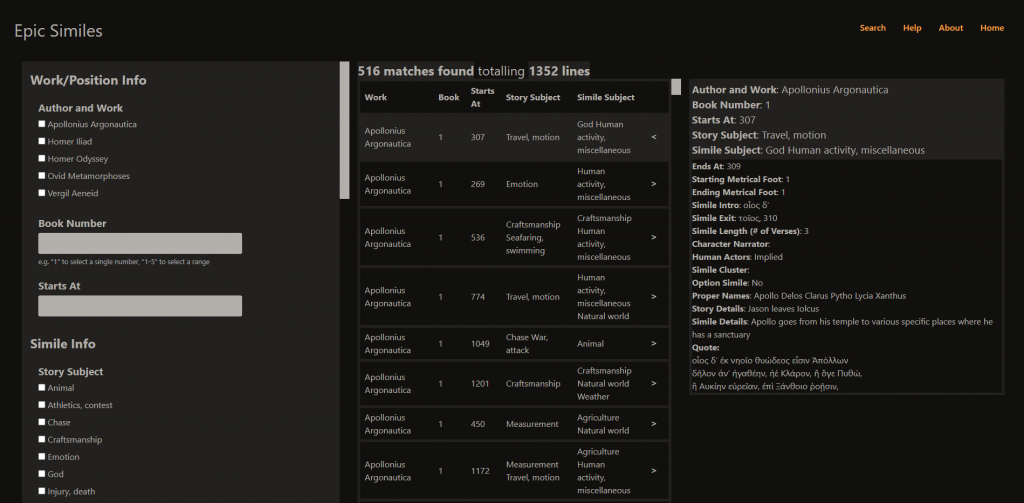 I stand on the shoulders of giants, the STAs before me, and of course Suloni and her magical handling of all of us…
and soon I will be revered as a giant whose people will stand on MY shoulders…
unless they become giants and then they aren't people anymore? I guess that's under the assumption that giants aren't people…but frankly I don't know if they are or not.
They aren't even real, so I couldn't get an answer via like evolutionary biology, unless a "giant" is a medical term for someone like 7″6′?
Which I'm not actually going to grow to that height, I guess I should be referring to giants in the context of fantasy fiction,
but then which fantasy world to I choose from in order to…….