See You Later
Wow! I can't believe I am leaving such an amazing team!! This semester went by way too fast and I'm going to miss every single one of y'all!!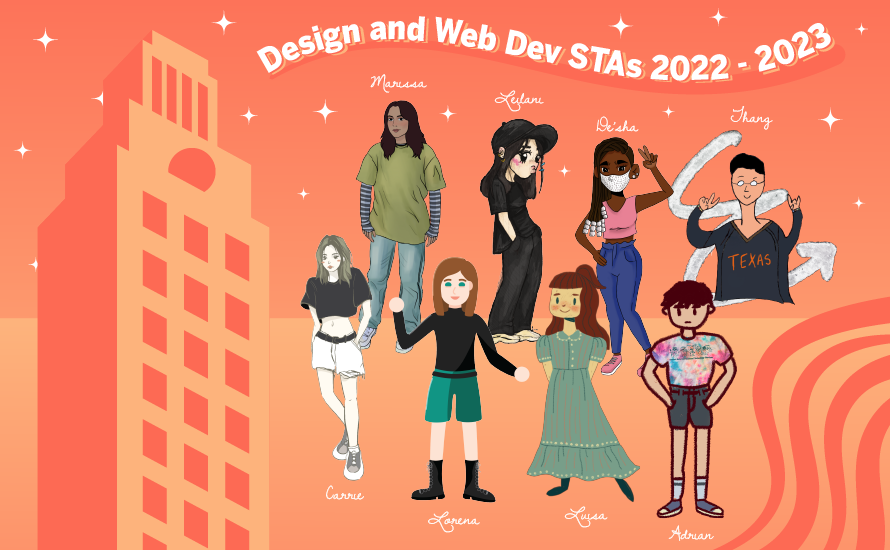 Even though I am leaving, I don't want to say goodbye because I feel like our paths might cross again in the future. I'm sad to be leaving but I have grown so much from working for LAITS for the past 2 years and I'm truly blessed to call myself a design STA. When I first started this job, I was filled with ambition and dedication but very little technical skills. But Valerie, Maddy, and Suloni believed in me and saw the potential I had to grow into a level 4 STA. I cherish all the projects I got to work on and all the AMAZING designers I got to meet. Y'all are superstars and I saw that when y'all created those beautiful posters. I couldn't be prouder and I'm so thankful I got to see it.
Rules for Success
Always be true to yourself! Embrace your unique qualities and never stop shining!
See the potential in yourself! Don't be afraid to try new things!
Use college as a learning opportunity. Learn about yourself and others.
"Can't" is your motivation. If you don't achieve something at the beginning but you are truly passionate about it, keep trying!! See failure as an opportunity to grow.
Letters:
Adrian:
You are a powerhouse! From creating a new intake system for Photo IDs to creating so many visually appealing course graphics! You always take a fun and unique approach to your creations that I know all the clients love. I also love how knowledgable you are on so many animal creatures. I know you are going to do amazing things and you are going to lead your fellow STAs well.
Thang:
Wow!! I am always so speechless after your present in our weekly check-in meetings. You are sooooooo passionate about learning new things and the way you share that information to your peers is amazing! You are such a great web developer and presenter. I also know you want to start designing as well and I have full confidence you can. By knowing how to develop an easily accessible website, you will be unstoppable when you began adding design elements.
Carrie:
Your attention to detail and design is amazing!! When you created the design STA poster I was shocked at how fast you were able to create such a beautiful design that captured our team so well! You also create such amazing website designs that are thought out and really capture what the client wants. Continue being amazing and creating beautiful work!
Lorena:
Wow! For the past couple of months your designs have grown so much. I appreciate your attention to details and unique style. You are such as sweet person and I absolutely loved working with you. Continue asking questions and learning new ways to create effective designs.
Marissa:
Your illustrations are soooo beautiful! I absolutely loved seeing your voting illustrations! I love how passionate you are for design and I see you doing big things in the future. Don't be afraid to explore new approaches and gain as much knowledge from your fellow designer and managers.
Luisa:
First, you have such an amazing style!! I love your leather coat and boats that you wear!! Absolutely beautiful!! You are so kind and caring to everyone you meet. You are also an amazing designer!! From the postcards to the brochure, I'm blown away with your attention to detail to create such amazing physical designs.
Leilani:
Wow!!! You have grown so much from when you first started as an STA! You are such a strong leader and have so many great ideas for art direction. I know you are going to do amazing things for the STA team! You are going to manage the the UTFC project and find new approaches I couldn't think of. You are so smart and talented!! Also, I hope your online print business is extremely successful! Your artwork is so beautiful and I know everyone will enjoy it.
Valerie:
You are such an amazing manager. You create such as welcoming and inviting environment for all the designers. I love how you play lo-fi and engage in fun conversations with everyone. Thank you for having the confidence on me to take on the UTFC project and help the STAs in anyway possible. I know that the Design team will continue to reach new goals because your passion for this team really shines!!! Thank you for being you!! Also, please start making art again!! You are such as talented illustrator and the world deserve to see your work!!
Maddy:
First, the mural is going to be sooo beautiful! I think it will truly create a peaceful environment for the designers to create freely. You are such an amazing art director and I love how you encourage the designers to go for new unique approaches to their projects. You inspired me so much with your leadership style and your dedication to the team. Thank you so much for encouraging me to take new risks with my animations and allowing my to take the lead on the STA posters. I'm truly thankful to have had a manager like you in my work career!!
Suloni:
Thank you for everything!! You have created such as strong foundation for the design STAs and I'm truly blessed that I was a part of it. Your wisdom and encouragement is so beautiful and the love you have for all the STAs shows. I know the design team will continue to be strong because they had you!! I hope you have a fun, relaxing, and adventurous retirement. You absolutely deserve it. Thank you for sharing a piece of you with your beautiful presentation of your work. I don't know if I would have believed in myself to take on art direction without you putting me in those roles and believing in my abilities. I honestly can't thank you enough.
New Beginnings
Y'all keep being amazing and creating wonderful designs that will be showcased all throughout UT. I'm so happy that I was a part of this team and always remember, y'all are LOVED <3