TxPEP – Timeline
Before I left for winter break, I worked on a few elements for the TxPEP branding. My first assignment was creating the Texas Timeline.
This was the original timeline that was used on their site: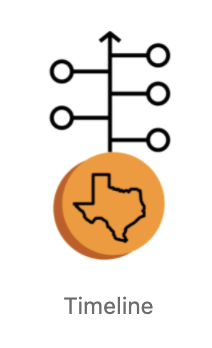 To better represent the flow of a timeline, I thought it would be best to make it horizontal instead of vertical. Here are a few of my inspiration images:
With a design in mind, I went through a lot of different iterations until I was able to reach the final potential designs. Here are a few of the drafts:
After I received some feedback for the timeline design, I was able to reach the final design possibilities. Each of the options have different types of arrow heads.