8/12/09
Finished Pragmatics module/thumbnails
Updated Ayn Rand website
Worked on cms.doc
7/29/09
Worked on Pragmatics module for TLTC.
7/29/09
Made thumbs and stills for TLTC.
Started on new TLTC Module.
7/22/09
Edited Ayn Rand again.
Finished TLTC modules.
Finished CREEES thumbnails.
Did a mock-up for the France-UT banner:
7/15/09
Fixed JOSHU submit function
Almost finished with adding content to TLTC
Updated Ayn Rand site again.
7/8/09
Met with Rachael about TLTC
Worked on TLTC
Made a bunch of thumbnails
7/1/09
Made an image gallery.
Met with Wilson and showed him how to make image galleries.
Made a bunch of thumbnails
Updated page for the Ayn Rand people.
Met with Rachael about TLTC.
6/24/09
met with Rachael about language website. Need to make some spreadsheets.
made some thumbnails for said language website
met with Amy about objectivism website. Need to make some updates.
Worked on grants banner:
6/17/09
Met with Rachael about the language website.
Created 2 modules for said language website.
Fixed broken links in Cascade and color-coded those I could not fix.
Fixed the flash menu for the IAC website.
Worked on the image links for the CMS page Kelsey is working on. Fail.
Dr. Charumbira got back to me about her website – should have content soon.
Emailed the Ayn Rand people. Will have work for me Friday.
Moar werk?
6/10/09
First Summer Week
finished up germanic website.
finished coding Dr. Charumbira's website and emailed her about content.
Worked on broken links in Cascade.
Meeting with Rachael after this meeting.
5/6/09
LAST MEETING
Germanic Studies
Working on lingering detail fix things
Meeting with Katherine today to talk about lingering detail fix things.
Dr. Charumbira
She emailed me and we're working on setting up a meeting.
Anyone know anything about using forms on webspace or preventing images from being saved/copied?
4/29/09
Germanic Studies
4/22/09
Germanic Studies
STA Presentation
4/15/09
Cinzia
Finished. Website is Live.
Shakespeare at Winedale
Charumbira
Met with her on Friday. How to implement?
Germanic Studies
4/8/09
Cinzia Russi
Almost finished. Waiting on content.
Shakespeare at Winedale
fixing tables by replacing them with text.
4/1/09
Shakespeare at Winedale
created placeholder images and made anchor links out of them
tried to make the above work
Cinzia Russi's Page
Met with her about what she wants. She likes the website Christine made for Catherine and wants elegant page with blue and green.
Started color picking.
3/25/09
Texas Politics
3/11/09
Iron Age Celts
Made a live maps page.
Omitted 2 links from front animation. Added one link.
OH YEAH IT'S LIVE NOW.
Fixed "bibliograpghy"on page
Changed gradient on main page
need to fix "bibliograpghy" on flash animation…halp?
TexPol
was put on standby for a few days. Just got the first set of data. Starting to work on it at 3 today.
3/4/09
Texas Politics Poll
Made new pages/folders from old graphs to be reused. Corrected dates, etc, so that all we have to do is plug in data.
Made templates for a couple of combined features:
Verified that I am finished with this project until next Friday
Iron Age Celts
Corrected some typographical errors (aside: Mai Thi is AMAZING at proofreading!!)
Fixed the front-page animation so that it doesn't separate on wide-screen monitors.
Met with Constanze about the website. She wants a word cloud as an alt to, as opposed to a replacement of, the current flash navigation. She wants two items (cf.) removed from the flash navigation. She wants a link to the live maps from the front page of the website. She may want the old gradient back–she said she'd contact Suloni about this. She cannot export into a .csv file.
2/24/09
Iron Age Celts
FINISHED coding all of the pages into PHP/CSS. Left one or two tables that are actually tables.
Started error-checking.
Scheduled meeting with Constanze about what she wants now that the site is, more or less, finished. She probably still wants interactive maps. I may need to change a couple things on the start page flash depending on if she wants to continue using it or wants to replace it with a word cloud. Need to find out if she expects me to make new pages for her for the images I made. Need to check on status of

EndNote

for Christine (do I just need to see if she can export into .csv?) Hopefully she's okay with the new design. Anything else?
Texas Politics Polls
Had a meeting with Ran, Jim, and Adam about what needs to be done for the TXPOL polls.
Started work on re-doing labels from past graphs to be reused.
2/18/09
Iron Age Celts
thermometers
2/11/09
Iron Age Celts
Coding.
GOAL: Finish coding by end of February
2/4/09
Iron Age Celts
1/27/09
Iron Age Celts
Made a gradient for left and right sides of IAC page because Constanze didn't like black background. Firefox doesn't support 2 background images. Searched teh interwebs for a work-around. Found a couple interesting ideas. So far none of them work. Kelsey had an interesting idea, which was to make a background image of the gold-to-black L-C-R gradient, tile it vertically, and position it in the center of the page and set the background to gold. The caveat to this is that large monitors will have a lot of gold and small monitors might not see any.
UPDATE: I'm a freaking genius
got a few more pages of the site properly formatted into css
1/21/09
Well, it appears I forgot to update my wiki the last week of last semester. Oh well.
Iron Age Celts
Made some image headers for Constanze's courses website.
Misc.
remembered all necessary passwords/codes. Yes!
12/1/08
Iron Age Celts
Made back arrows for the website:
11/22/08
Iron Age Celts
Met with Constanze about maps and endnote. She wants actual terrain maps integrated into the website with links to websites like panoramia and wikimapia. She also wants a "back" navigation on individual pages. Ekphora and Symposion need to be eliminated from the flash thing.
continued coding IAC
11/21/08
Iron Age Celts
11/19/08
Iron Age Celts
Fixed IAC homepage image and fonts
Made new colored header bar things (see last week's links)
Fought a winning battle against image link border colors.
Fighting a losing battle against embedded image borders.
Indigenous Studies
Un-did the changes I made last week at Jim's request.
11/12/08
Iron Age Celts
Made a slight change to IS website at Jim's request:
11/6/08
IS Website is now IE compatible!
11/5/08
Iron Age Celts
started coding new design:
10/29/08
Iron Age Celts
Made 3 mockups for new IAC design: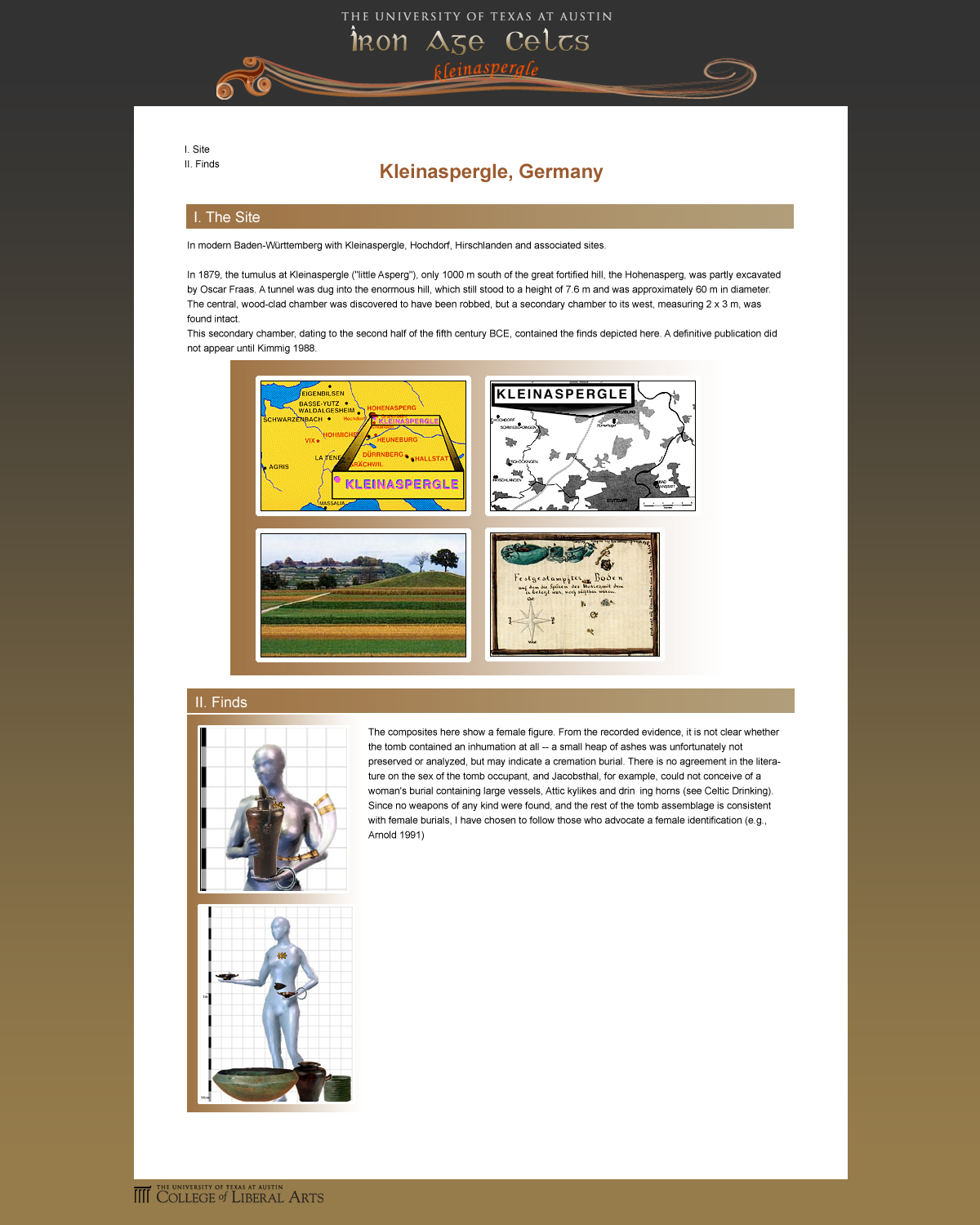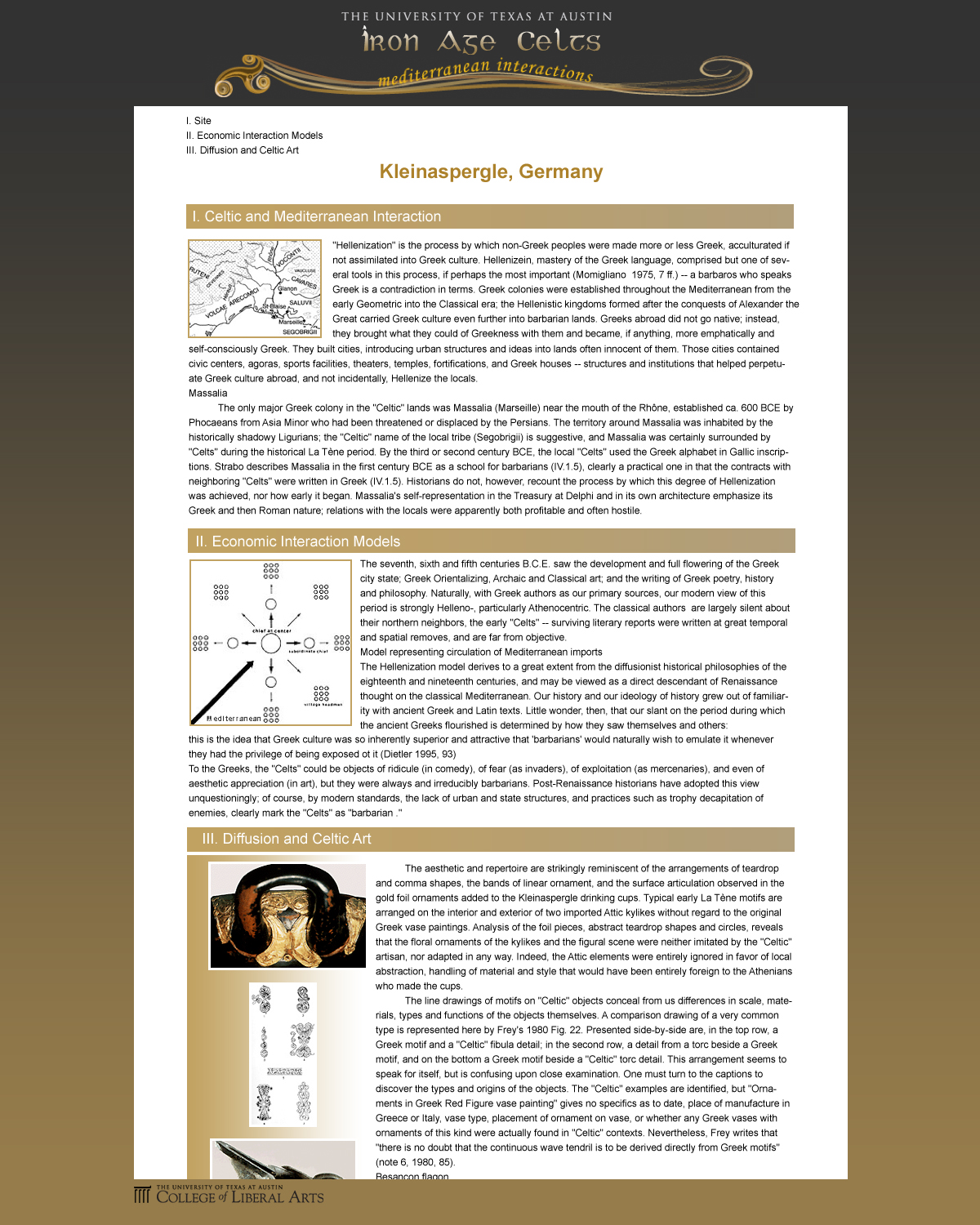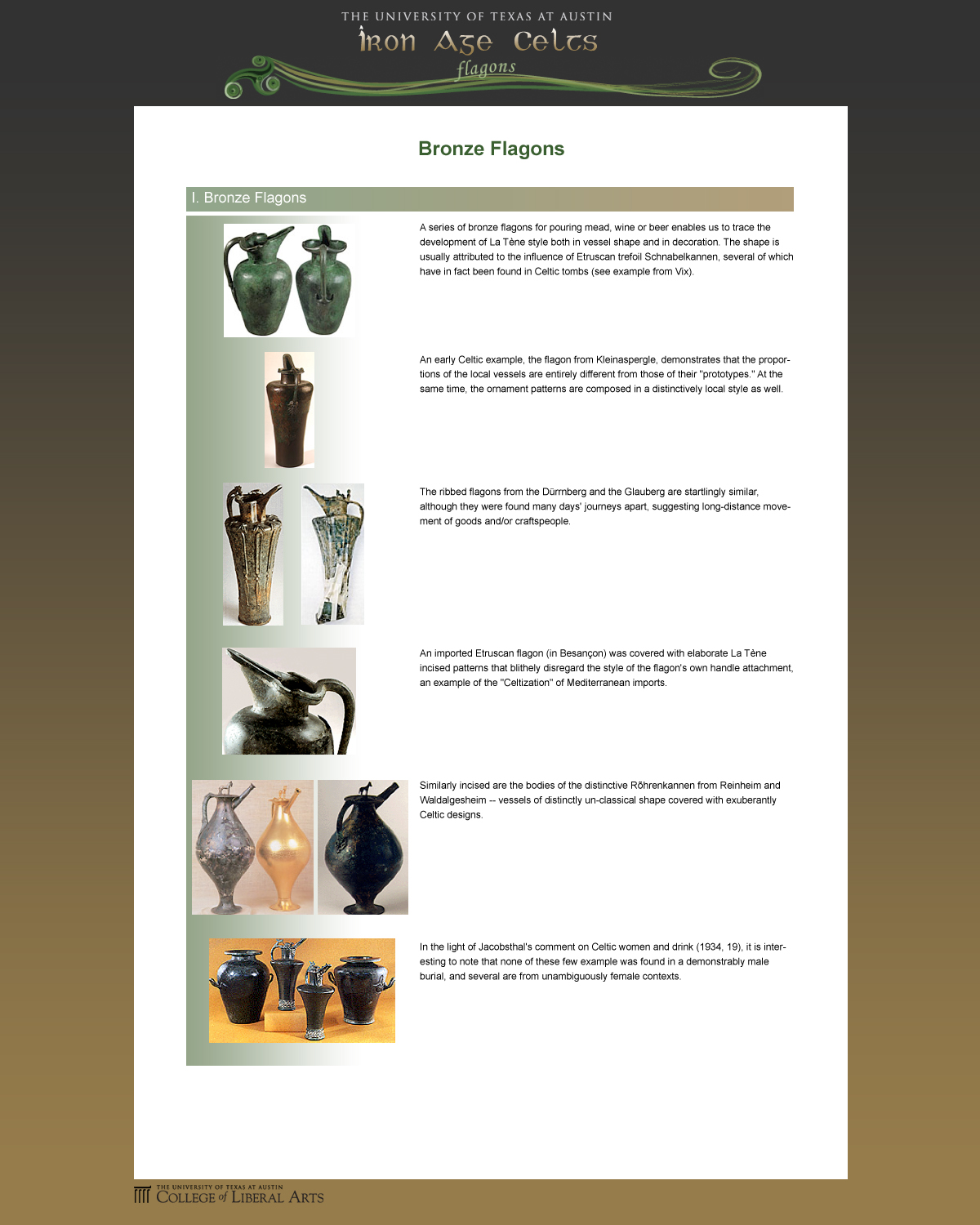 10/22/08
Iron Age Celts
Finished up the image-less pages of the IAC website
Proposed new layout since current one is inconsistent–approved!
Working with Suloni on refining new design:
Mock up:
10/15/08
Iron Age Celts
went back and fixed most of the images that were fluidity-impaired. Said images would overlap other images and text, move vertically during browser size adjustments, or both. Second problem took me a while to figure out, but was an easy fix once I did. First problem is not totally resolved:
dev.laits.utexas.edu/ironagecelts/flagons.php (also Heuneberg)
dev.laits.utexas.edu/ironagecelts/glauberg.php
I've looked for ways to make images wrap to the next line in CSS, but haven't found anything.
I don't even know where to start with the glauberg problem.
SIGN UP FOR CAKE WEDNESDAY!
10/10/08
practiced with illustrator for a bit. Not totally pleased with this, but it's a start.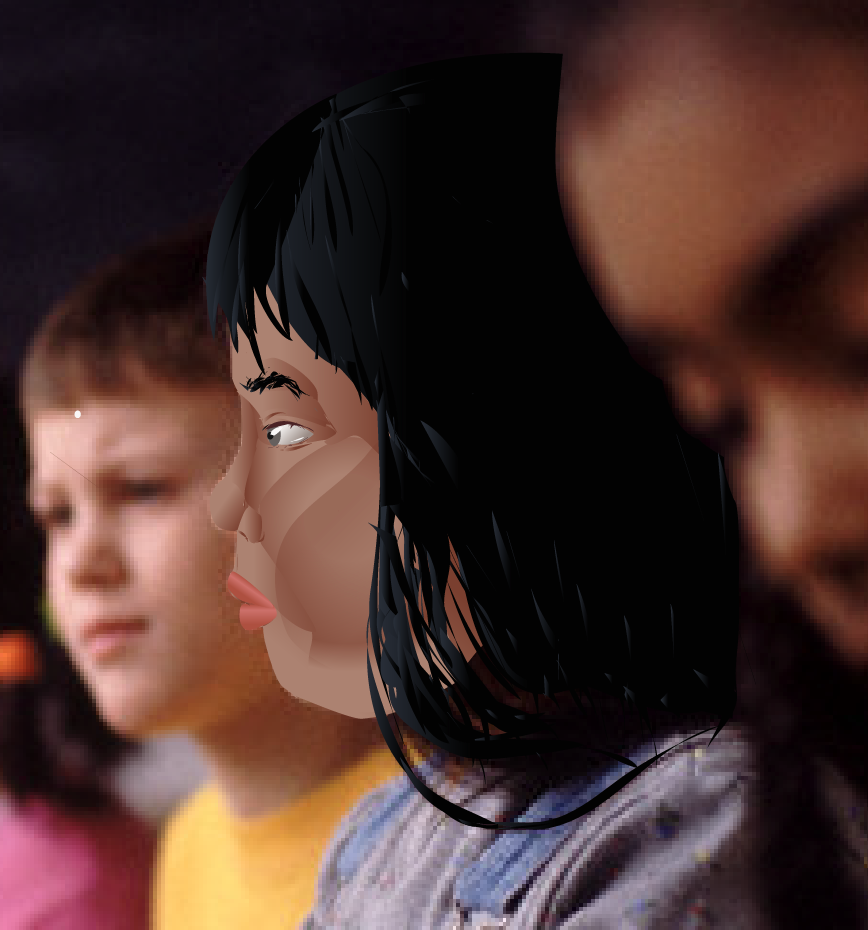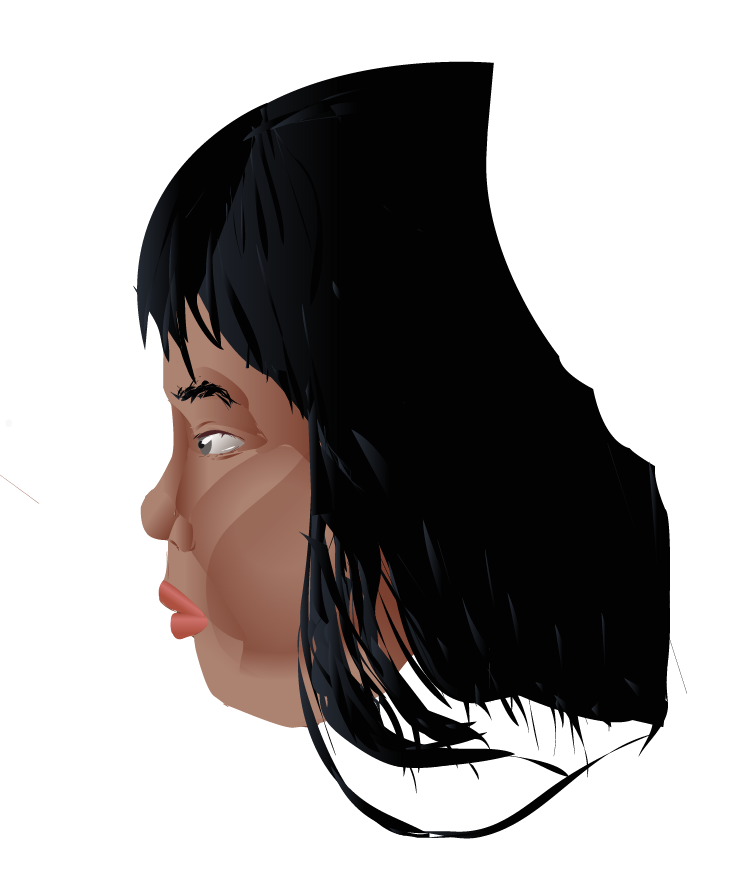 10/8/08
Iron Age Celts–
More o'the same! Images are misbehaving in a new way every day.
10/1/08
Iron Age Celts –
I'm still brute-forcing my way through image positions, but making progress and learning new tricks. Last week I was almost finished with "g" pages. This week I'm only on "h," but there's about n+1 pages that start with h, so it's not so bad, especially since I had to re-do some stuff I'd already done to make images a uniform size.
I edited an image to make it un-pixelated in the thumbnail. I'm fairly pleased with the way it looks now.
Misc.–
Today I taught basic HTML to a couple of guys who oversee the Indigenous Studies website. It was fun. I like teaching. I also set up a backup folder of all of the files in the website just in case something goes wrong. Back when I was learning HTML, something ALWAYS went wrong. Usually it was from not closing a tag.
I have a test in History of Ancient Philosophy tomorrow. Wish me luck!!
9/24/08
Iron Age Celts –

Etruscan flagon, Vix (2 views)

Kleinaspergle

Glauberg
Dear God, why?
9/22/08
Iron Age Celts – Started CSS-conversion work on a page with a bunch of images in tables. Got a headache. Found pages without images to work on. Iron Age Celts – Christine fixed the image issue. I stopped crying.
9/17/08
Iron Age Celts – Finished converting in to PHP.
Started learning CSS.
Iron Age Celts – Got started converting the tables into

s. I will be doing this for quite some time.
9/10/08
Started learning PHP.
Iron Age Celts – changed .html extensions into .php extensions and modified the code of these files to reflect the changes.
---