Animation Training
This week has been dedicated to my new animation training of creating a rigged walk cycle. I completed my character design and learn a ton ab Illustrator. It's a very intimidating program at first but like all software, it gets easier to figure out. Here's my final design.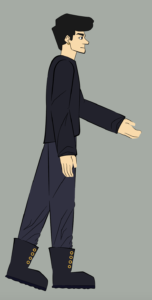 I made all the limbs different groups and was able to organize the character pretty well. Next up is rigging in After Effects!
This was actually pretty hard to find a tutorial on surprisingly. A lot of tutorials on after effects rigging rely on an After Effects extension called DUIK. Apparently it's one of the best extensions for After Effects, but I don't need any more fancy tools so I stuck with vanilla After Effects (DUIK also costs money and I don't think that's the best move).
I found a tutorial on After Effects layer parenting and was able to attach all the limbs to the appropriate joints.
Here's my progress on the walk cycle.
https://utexas.box.com/s/whr4jxsn20pprek068pwg98fh5wg45sq 
It's very robotic and kind of unsettling to look at, but I plan to just get the key poses done and then to add more aniation principles later.
I've been having a lot of fun with this project! I'm learning new programs, I'm designing a character, and I'm practicing something I really love! I'm excited to see the final look.