Fall '23 STA Roster Poster
Project: Fall 2023 STA Roster Poster
Client: LAITS
Completion Status: *Final touches*
Staff guidance: De'sha
STA team members: Leilani
Description/plans: Lots (and lots) of variations of how the QR code could be displayed. The triangle banners tie best with the theme so we changed the movement and colors on them to better suit each poster.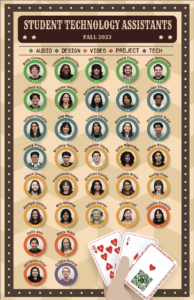 FINALS:
THAT'S A WRAP
Thank you to De'sha and Leilani for helping me with the STA Roster Poster! This project felt very ambitious so I had to learn to trust my judgment and decision-making skills. I also became very familiar with the Illustrator workspace during this project, which was a great benefit. I'm very thankful for the opportunity to work on this, and I hope everyone is happy with the results! I learned a lot from this experience but I know I still have much more to learn as a designer.
10/1 Group Meeting – Stress Management
This week De'sha talked to us about stress management– identifying the signs, behaviors, and remedies. We talked about how everyone is juggling different kinds and amounts of stress, even if we don't visibly see it. At the end of the meeting, we made sticky notes with positive affirmations on them to put somewhere where we'll see them every day.