Week 15
fifteen scaffolds for a murderer
  JULY 25th – 26th
I had a couple of project meetings that discussed upcoming plans for the Contextualization and Commemoration Initiative. We went over plans for the upcoming Herman Sweatt exhibition and From Freedom to Slavery in Texas website.
Project placeholder on CCI site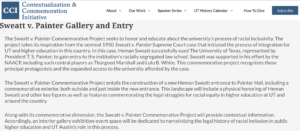 I also worked on some CSS training using the AHAA website and Google Chrome's Developer tools.