STA Presentation Lower Thirds
Project: Lower Thirds
Client: LAITS
Completion status: started/completed 4/12/23
Staff guidance: Maddy
STA team members: Adrian & Carrie
Description/plans: Maddy asked us to use Adrian's AI template to create lower thirds for each of the STA/LAITS staff & their titles.
UTFC Image Sourcing/Rights
Project: UTFC Image Sourcing
Client: UTFC
Completion status: started 4/11/23
Staff guidance: Maddy & Valerie
STA team members: Adrian, Luisa, & Leilani
Description/plans: We were tasked with tracking down images for the French Textbook, some of which came from copyright-free sources, while others had more mysterious origins. We're trying to keep our search at 5-10 minutes per photo since there is a lot of content that needs to be checked/updated. Thankfully most of the photos still had their original file name, and we were able to easily track them back to Unsplash or Pexels. The image search/sourcing will probably get harder once we go into nameless file territory…
In the meantime, we have a very detailed spreadsheet keeping track of any legal copyright info:
1.5 Personality Traits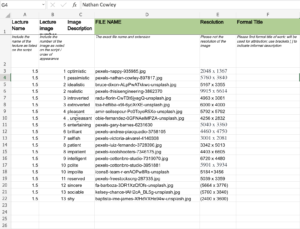 2.1 Colors and Common Objects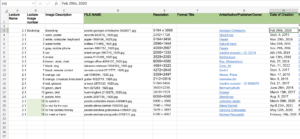 STA Presenter Intros
STA PRESENTATION IS ALMOST HERE!!!!
Project: STA Presenter Intros
Client: LAITS
Completion status: revisiting
Staff guidance: Maddy
Description/plans: The STA PResenter Intros are finished but need an "up next" image.
My initial idea was to have the "up next" on a scrap piece of paper to tie in with the theme. I added colored paper because at first, the plain white seemed too stark– but the text is also more legible on white. Maddy agreed that the white was more legible, but the color helps the hierarchy by putting the "up next" below the bio info.
edits:
I turned down the opacity of the color overlay on the scrap paper. This was to make the text slightly more legible. I just decided to use the LAITS colors so it all tied together.