RACE Lab Logo
Project: Resilience and Adversity (in) Children's Ecology Lab Logo
Client /Prof: Professor Ibekwe-Okafor
Completion status: Started March 2, 2023
Staff guidance: Maddy
Description/plans: Design a logo/branding for Prof. Ibekwe-Okaforwork that can be used on her website.
To be completed: before Summer
We recently received feedback on our first draft of logos from Prof. Ibekwe-Okaforwork. She emphasized the importance of displaying her lab's core values: resilience, adversity, race, ecology, policy, and research. She liked the silhouettes but requested a more gender-neutral presenting child. She also wanted to see if we could incorporate ABC blocks, puzzles, or gears into the logo. Some of these more detail-oriented qualities might not translate as strongly when it's in a small logo, but I tried my best to create something legible and recognizable.
First draft: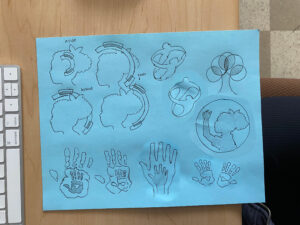 After feedback:
STA Presenter Intros
Project: STA Presenter Intros
Client: LAITS
started on: March 20, 2023
staff guidance: Maddy
STA team members: Lorena, Carrie, & Luisa
description/plans: Last week I made a template for other STAs to help out with creating the STA Presenter Intros. I then delegated the Audio STAs to Lorena, and this week Carrie and Luisa started working on the other STAs.
It feels very different to be in the art directing position. The STAs who are helping come to me for guidance and feedback which I'm not used to (usually I am the one asking!) It's fun to organize and talk with other STAs about the project though. The overall task doesn't seem too complicated after I made the template and typed out instructions. I had to take a pause from the intros since I had to prioritize the RACE lab logo, but I've been trying to cut out knick-knacks and STA photos to make to process smoother for Lorena, Carrie, and Luisa (They are the best!)
We have 12/14 completed!
Template: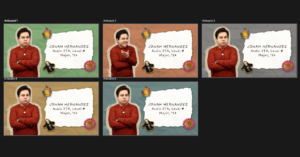 Finished Presenter Intro by Lorena!!!!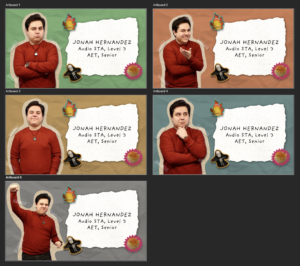 STA Presenter Intros I completed:
Studio Stickers (the mug is my favorite):