Week 4
AUDIO TEAM CREST
(9/27 – 10/3)
These past few weeks have mostly been filled with working on the Audio team's STA poster and crest. In the beginning, I felt a bit lost (and overwhelmed) since there was a lot of creative freedom left up to me. However, after each feedback comment, my designs improved, especially after seeing some of the other STA's work.
At first, I was more focused on creating a crest that vaguely alluded to the idea of audio but I soon realized the design needed to be more explicit. After we received more information about the color palette, template, font, etc. I made another crest that included feedback from De'sha and more clearly displayed "audio". After receiving feedback again (VERY HELPFUL) I made a crest that spoke more to the job of an Audio STA (audio engineer).
Now looking back on my first attempt, I am very thankful for the critiques/feedback that I received. Each time I redesigned the crest, it improved very much. I still have to finalize the crest, but hopefully, this design is good to go:)
AUDIO STA POSTER
Although the Audio team doesn't have a ton of STAs, the fun poses that I wanted to include made the poster seem "crowded". De'sha gave me some help by suggesting to mirror similar poses and create an overall shape with the pictures. I still need to implement the feedback, but this is the draft I had before receiving it.
Draft: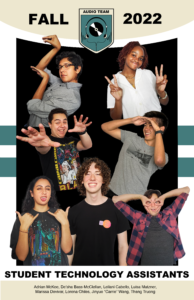 Inspo (for feedback):