Dear Maddy 🙂 i*** finally*** have your blog space ready.
Before you start work on VLabs, please upload the STA banner that you designed for your STA Blog here & and write for us a brief note of your experience as an STA so far.
---
WP
Log-in
https://sta.laits.utexas.edu/wp-admin
Read Publishing Help Documentation/Instructions 
Read our "Publishing Help" before you upload your banner. Click on each of these links and read the STA publishing help. The help is out of date! i would appreciate your feedback on updating the instructions. Please let me know when you are ready to talk to me about it.
---
ABOUT IMAGES
Do not merely copy paste images in to your blog. Always upload images into the "Media" section of blog first, and then set the image from the media folder to display on your blog.
Don't use the thumbnail version of your images.
Use images that are 72 dpi
screen shots are fine
images that are 780 pix wide format nicely above or below text blocks
ABOUT CATEGORIES
Check the "2018 Fall – 2019 Spring" Category box for all the blog posts you make this summer so that all of your work is documented in the correct semesters.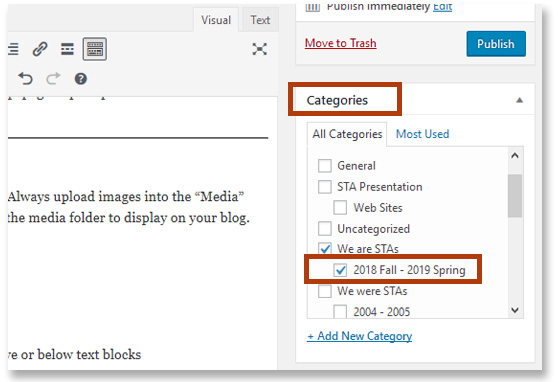 ---
LASTLY Comment on Basecamp
Let us know you've completed this task, on basecamp.
Upload a link to this blog, on your base camp to-do:
https://3.basecamp.com/4001554/buckets/7892081/todos/1547763221
Thank you Maddy:-)