The U12_2 depicts Oleg and Polina on an ornate staircase, where Polina is at the bottom looking up the stairs with Oleg at the top looking down on her.
I felt the most important part of the scene was the perspective. The stairs are the focal point of the scene, but Polina and Oleg also needed to have the correct perspective to make it seem more realistic and show their position and where they are looking.
The photo I chose reference showed a clear perspective that could easily show the two characters and had good tonal qualities.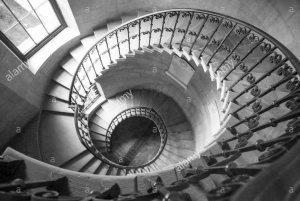 I did a rough sketch of the scene.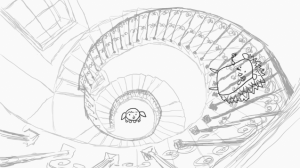 Once I got approval, I started the final drawing. The perspective of the staircase was easy to capture, but the hardest part was actually drawing the ornate railing, especially since they were all at different distances. I needed to get the right amount of ornate-ness but not detract from the actual stairs and Oleg/Polina (since that was not the focal point).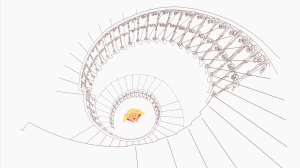 I added Polina and Oleg in, and while Polina fit in nicely as the perspective was much more straight forward, it was a lot harder to capture Olegs perspective.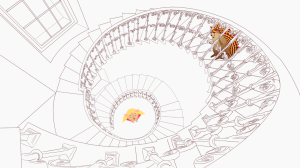 I needed to make a sculpture of Oleg out of clay in order to visualize the perspective, because none of the other character sheets showed that perspective from looking down at him. Once I found the right perspective, I pieced together parts of Oleg from multiple character sheets and constructed a new position for him on the stairs.
The tonal renderings were not that difficult, especially since there is a pattern going up the stairs where there is much harsher light and shadows towards the window and softer more dispersed light towards the back.