The U11_2 illustration depicts Polina and Oleg in the a movie theatre, and on the screen shows an Eastern Orthodox wedding with traditional elements. This scene was going to be interesting because of the lighting. I have to think of the shadows and highlights of the scene because of the movie screen.
I started a rough sketch of the scene. Oleg and Polina are sitting towards the back of the movie theatre so they can be more easily seen. The scene of the screen shows the bride and groom being adorned with crowns as part of their wedding ceremony.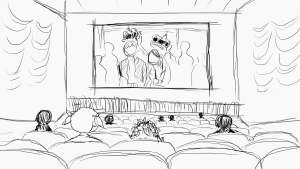 I started the final draft of the illustration, keeping more simple draping around the screen on the sidewalls. The scene on the screen was also initially more simple, with more detail but on the bride and groom.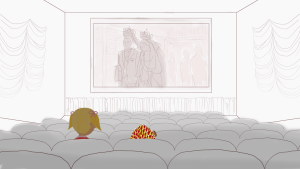 My tonal rendering showed the lighting on the side walls with a more diffuse effect, with the side drapes with stronger shadows, and a very strong highlight on the edge of the chair. I also added more people into the scene.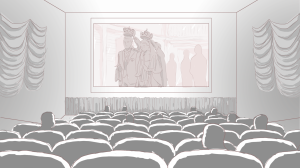 After talking with Suloni and Kathy, we decided that the movie theatre needed more ornate decoration, including wood framing around the screen and the drapes on the side wall. It just felt a little incomplete in the sketch before and need more detail. The people also needed to be more detailed, so I gave some of them hair and made some of them children, etc.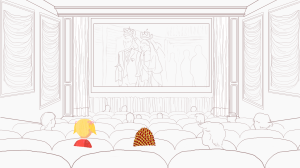 I was given the task to color the scene, and I initially chose to do a blue wall color. The chairs were a red velvet.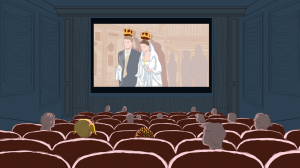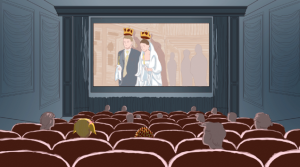 However, I think to go in theme with an older, more classic style of cinema, I tried out the color red for the movie theatre. I also changed the drapes to red and made the wood framing a warm brown. I gave more detail to the wedding scene, including adding more decor to the church walls and cieling and adding more detail to the crowns and adding shadow to the bride and groom's clothing.
This was the hardest but most rewarding scene I had to do. It was hard to get the correct shadows and highlights in the theatre, and also finding a balance of detail on the screen and in the audience.