What I've been up to recently
I've been busy this week! Yesterday, I updated the Diversity & Inclusion CLIO course's flip cards to have "headlines" on the answers.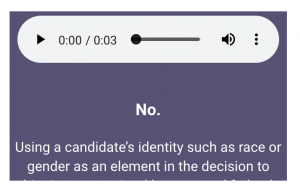 I also got my anti-racism resources banner approved for the history department! You can see it in a post below. Other than that, I've been working with Ingrid and Cristina to copy over content from old PowerPoints for HIS 315K. I learned some new things about the Puritans in the process! I also made an intro slide for CH 302C Principles of Chemistry II for an old professor of mine, Dr. Biberdorf (she was great in ChemBridge!) so that the audio department can work with it.
What a week!