STA Orientation Sept 3-4, 2019
Design and upload your STA Blog banner to this STA blog.
FIRST STEP
Photoshop
Design and make your banner

a. Use the photoshop specs for your blog banner that i placed in your STA volume folder
b. Save your unmerged files back to your STA volume folder
SECOND STEP
Log-in to the STA word press blog:
Publishing Help Documentation/Instructions
Read this WP sites "Publishing Help" before you upload your banner.
STA publishing help:
Blog post
Reflect on the day. You blog posts will be a written experience with images, of your time as an STA with LAITS.
Write a bit about your about your-self, & what you did during orientation & upload your banner.
---
Image specs.
Do not merely copy paste images in to your blog. Always upload images into the "Media" section of blog first, and then set the image from the media folder to display on your blog.
Don't use the thumbnail version of your images.
Use images that are 72 dpi
Screen shots are fine
Images that are 780 pix wide format nicely above or below text blocks
---
Use Categories for all of your posts
Check-mark the "2019 Fall-Winter | Spring-Summer 2020" Category box for all the blog posts you make this semester and next semester so that all of your work is documented in the correct semesters.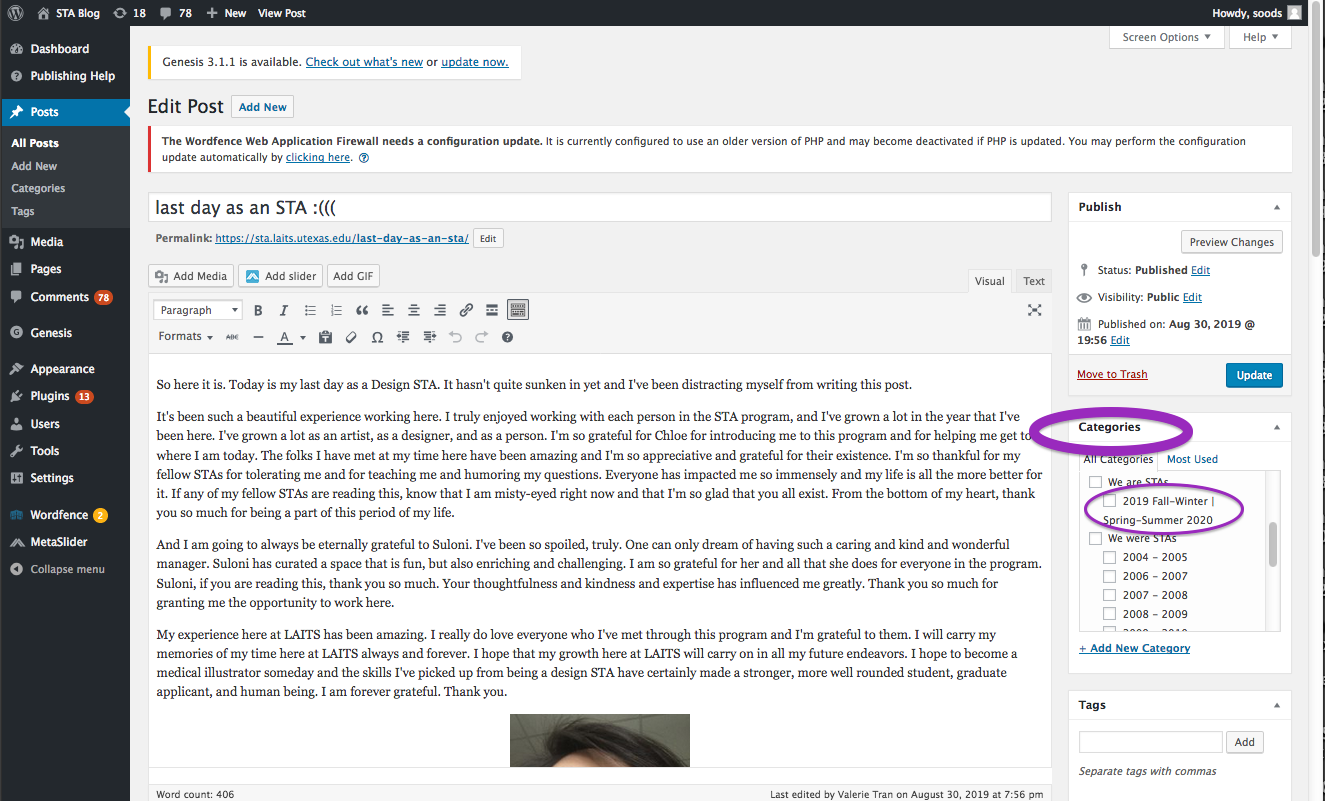 ---
Comment on Basecamp
Notification comments: etiquette, files, questions, feedback
Let us know you've completed this task.
Do this by uploading a link from your blog, to a comment on basecamp, and for your basecamp comments in general:
*Always address the person(s) you are writing to by their names.
*Always use complete sentences.
*Always add links or paths to your design file residing in your STA folder
*and a courtesy to your collaborators and mentors, upload a screen shot to your comment, of the file you are asking feedback on.
Use "@"name of STA mentor
and   "@"Suloni
on your bascamp comment:
to ask us questions you may have about the mechanics of using the STA blog,
about the mechanics of photoshop,
to let us know that you have completed this task,
that you would like a little feedback on on your banner design 🙂
Thank you & have fun!