Project: PSY MUNA LAB
Client /Prof: Professor Alexandra Clark
completion status: started last week and expected to be done by Nov 8
staff guidance: Estella
STA team members: Angie
description/plans: Create a lab website for Prof. Clark on Grav/Gantry using the Duarte lab templates
I made some small styling changes:
The main title was off-centered and when the page screen was minimized it would shift to the left. The horizontal menu on the top would also bleed over to the bottom when the page.
This is the new look with the title positioned in a better place and the menu spacing fixed.
I was playing around with how to have this section styled on the page since it was kind of awkward being aligned to the left in comparison with the other sections. I created a new particle block to have this section separated from the rest. Not sure if this is the final look but it's there for now.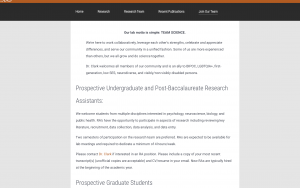 I also updated the profile block from Estella's Duarte Lab template to have the text wrap and include spaced out sections for Twitter username's and fun facts since Prof. Clark provided more info to go along with this section than the Duarte lab.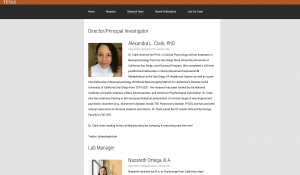 I also had quite a bit of trouble with adding my changes to github which took up some time on Wednesday (Estella helped me out on Thursday).
For now, I'm done with the MUNA lab project and am switching back to Blanton until I have to add in the final changes to the homepage and other css changes.