SUMMER 2020 COURSE FLYER
Before starting all the documentation edits for COVID-19 response online class apps, I was given a summer 2020 course flyer to make. The process I took to start, execute, and turn in the project will eventually be uploaded to the knowledge base so other STAs will have a laid-out process for completing the project with consistency to past flyers.
For this .psd file, I started off by opening one that was made last year and editing the content within it. I switched out courses, flags, special course numbers, and then adjusted the key to match the flags that were used. Everything had to be laid out carefully making sure all spacing was even and within a .25″ bleed. I adjusted my spacing to fit all the flags in the key so that future STAs using my .psd file will be able to easily insert more flags into the key if needed. In order to get exact measurements went into "view" and clicked "rulers". Then to add my guide to an exact spot I click "add new guide" and inserted my value. This gives much more accurate results than dragging and dropping the guides.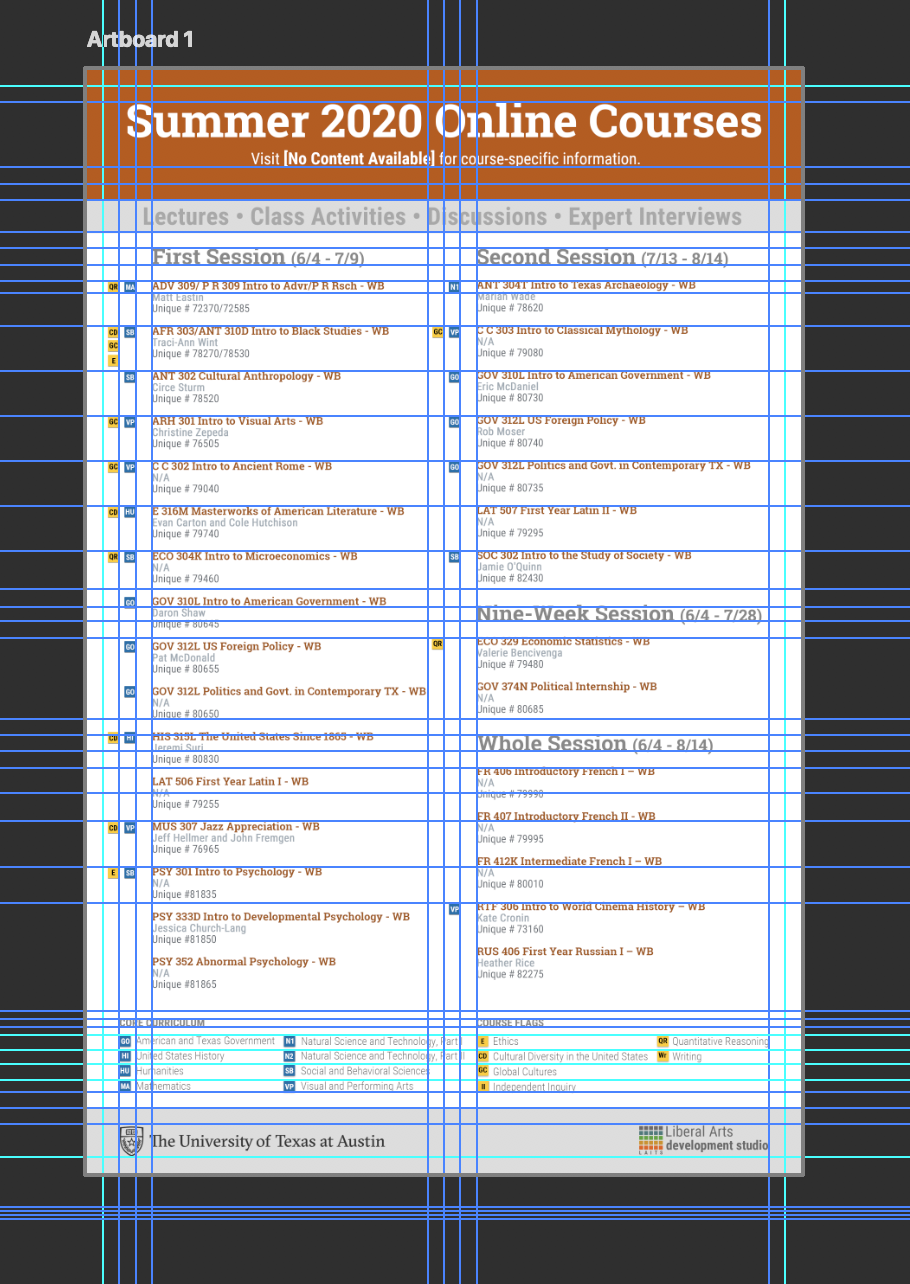 Then I made sure that the layers were named and grouped in a way that was easy to understand. The grouping of the layers in the old PSD was a little all over the place for me. I grouped the layers by content and area of the page. The only layer that is a little unorganized is the "Flags" because it is made up of many copies of the flag icons to duplicate on the artboard. However, clicking the move tool and then selecting a flag icon will point you to where it is in this layer.
For adjusting the text, I noticed that each course was its own text box with made spacing and editing more cumbersome. I decided to make four text boxes and copy and paste all the text into their respective section and edit the content and spacing from there to all be even. This also makes adding and taking away text much easier when editing. I opened up a new .psd file with the same dimensions to do this editing and then copied and pasted it over to the final document.
I made a 300 dpi merged pdf version for print, and a 72 dpit merged jpeg for email. All files were uploaded to the BOX and Myra was notified and sent a link to the location of the files. I also included the editable .psd for any edits that may need to be made between now and when this is released. As well as for future STAs to be able to work on this document. Here is the final result of the flyer: