UTFC Greenscreen: 8.2B Countryside & Farming
Project: UTFC Greenscreen
Due On: December 2nd
Notes: For this project, I was assigned to find pictures with elements of the countryside and farming from Saint-Denis or Reunion Island in France.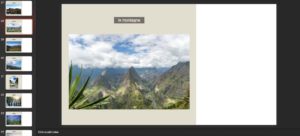 This PowerPoint was a bit tricky considering that there are not too many images of farming in Saint-Denis. I had to do a bit of research and reverse image searching to make sure the images provided were legitimate.
Color Theory Training
Project: Basic Training: Color Theory
Notes: For this training, the main goal to get out of this lesson is to get a full understanding of how color works and interacts for the purpose of improving designs. Although the activity asks me to make my own color scheme and color wheel, I wanted to have fun with this assignment and make it a bit more challenging.