Week 11
WordPress Training
Started on: Nov 14, 2022
Completed on: Nov 16, 2022
Description: It took me a lot of time to look around for WordPress Training. Eventually, I landed on one training that involves using Elementor Plugin and using some PhP for the backend of the customizable theme. The tutorial is about the legal website for some imaginary law firm and this is what I have so far. I have done the footer and header as well as the features for the law firm.
But upon completing the project, I talked to Stacy and I knew that I needed to take another training if I want to learn more about WordPress from a developer point of view. So Stacy directed me to the WordPress main website and helped me find different other resources to train.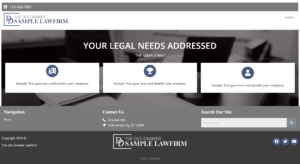 Stacy's Project 
Started on: Nov 16, 2022
Completed on: Nov 17, 2022
Description: This project involves me converting columns of different projects that Stacy has in the database into different text files for each project. I used Python to help me access to CSV files and query through different columns so that I can get a hold for different information that I want. Then, I convert each different column as a separate text files for Stacy.
Monfils Lab Projecy
Started on: Nov 28, 2022
Completed on: Nov 29, 2022
Description: This project is about updating the website for Dr. Monfils' laboratory. It involves migrating the content from the old website that she has to the new one that uses Grav. Last week, I sent email asking if she was still interested in updating the website. She responded more and more with her feedback on the look of the new site. I updated the banner to the image that she attached and updated the title of the header to the name of her lab.
Other small tasks:
Answering Email for Dr. Monfils Lab
Completed the evaluation