This week I continued to work on an arrangement of projects. I finished my photo ID training, finished my Studio Course Graphics, and now I'm working on the UT French Course Training module. Although I was a bit lost as I started the Studio Course Graphics training, I was able to decide on a color scheme and personalized background. Here is one of the mockups for the course I chose down below.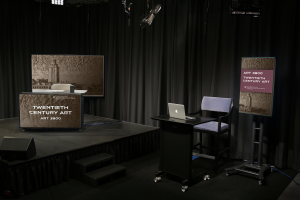 I made a photo of the UT Tower into a cubism-style painting since the course covered 20th-century art.
After receiving feedback and approval on the Studio Graphics training I was able to start the UTFC training. Even though I'm still currently working on familiarizing myself with the training, I was still able to refresh my photoshop skills with secret tips and tricks I had forgotten about. Down below is another mockup of what backgrounds could look like in a hypothetical online live course stream.
Apart from all the training this week, here is a personal project I worked on at my other job. I make concert posters from time to time at a concert/restaurant venue in Corpus Christi, Tx. I ended up making a poster for country singer Robert Earl Keen!