Hi everyone!
For my second week I spent most of my time working on the Blanton Website Migration project.
Project: Blanton Website Migration
Client /Prof: Blanton Museum
completion status: started work on August 23 and still continuing
staff guidance: Ruben Garza
STA team members: Marianne, Angie
description/plans: Start working through more pages and seek guidance on creating more complicated page layouts that don't use the typical 30/70 section divide.
To be completed: long-term project, date not known but is a priority
The Austin In Depth section took me a bit of time since it was my first time creating lots of new pages to add to the left-side navigation bar. Ruben provided me with a few example pages to help me get started.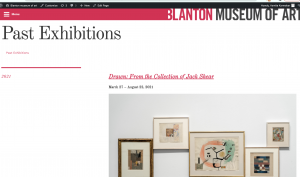 The Past exhibition page contains all of Blanton museum's past exhibitions back till the 2000s so this page is taking me a long time. I am creating new pages for each gallery and linking it to the main page. I am working on this into the following week.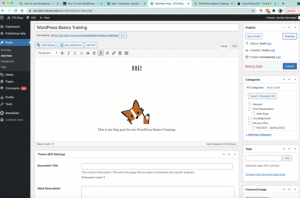 I also completed a training on the basics of WordPress and made this little post. I played around with some of the media options and inserted this cute gif of a corgi waving.