This past week
This week had me feeling like this old TinTin comic at times, but I got through it!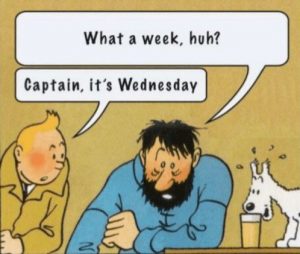 Here's what I've been working on this week:
project: AFR 303 Animation & Green Screen Photo Selection
Client /Prof: Dr. Edmund Gordon
completion status: Started Sept. 1 2021
staff guidance: Maddy Kaniewski
STA team members: Sheryl Long
description/plans:
For animation:
Take 20-40 images from professor's lecture presentations, find a free, bold sans serif font, and make an After Effects animation masking the images into bold "Black Studies" text.
For green screen photo selection:
Find images to replace current ones in lecture presentation: images of certain African cities on a street level view, so that the professor looks like he's standing on the street.
To be completed: September 6th 2021
I've also done some photo IDs and a button for NTR 306!