This Past Week
This past week, I worked mostly on edits related to the Knowledge Base. I created a training for the Inspect Tool. This training is a very brief explanation of how the Inspect tool can be useful for temporary HTML/CSS edits. Here is an image from the training.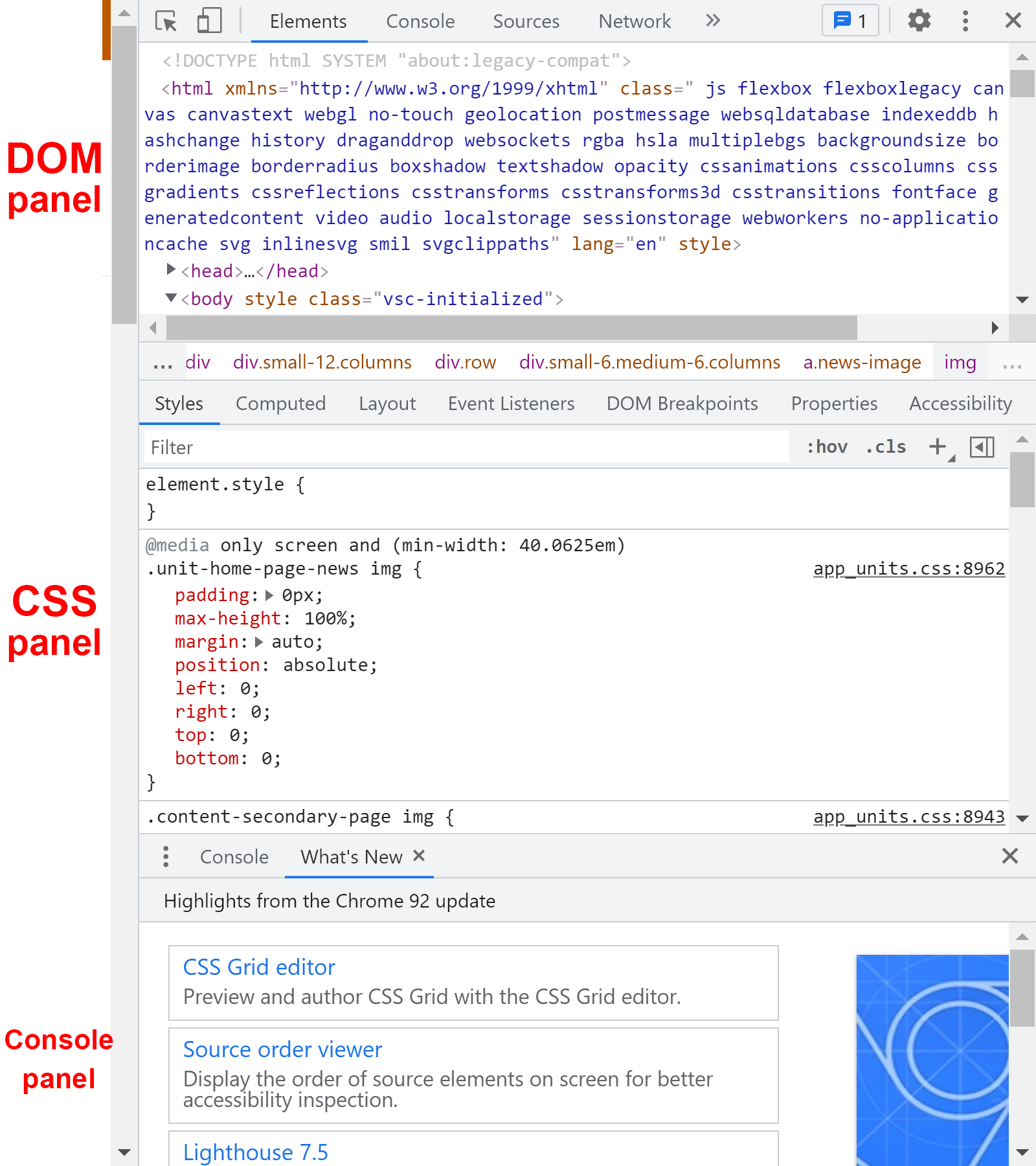 I also have been working on some changes for the Branding training from a while back, based on Abriella's feedback. Earlier last week, I also helped out with some title cards from a training Poonum started, but she has left now 🙁 sad and I'm not really sure if I have all the files for it. I also worked on a photo ID, updating my Box folder,  and some Youtube tutorials in downtime/to switch things up. Only two days left of being an STA :0.
Here are some of the notes I took on a few of the tutorials I watched:
Top 5 Adobe Illustrator Tools You Should Know – Design Tutorial
Shapebuilder Tool
Scan a photo into illustrator and lock it, work on another layer

Shapebuilder is a replacement for pathfinder, it is in the toolset

Drag to join

Hold down the altkey to delete

Use a line segment tool

Shift M

Then fill with flat colors using the eyedropper tool
Pen Tool
Make curves

Turn off fill

One click makes a straight line, another click makes it a curve

Click escape to get out

Remember the shape builder tool can be used to get ruid of lines if you hold alt

Width tool

Alter lines after you make the line really thin first, then you can adjust fulcrum points to make different sections larger using the width tool

Use expand experience to turn from a stroke to a fill

Ellipse tool

Scissors tool

Create lines to segment where you want to start deletting

Then use shape builder tool to delete

You can change the but capp using a different tool

Freeform Gradient

Fill tool selected

Then click gradient on the right toolbar with colr selectecd as needed

Using freeform gradient tool, you can easily adjust where the light is coming from and what color you want them to be

You can also use gradient lines using fill > gradient > freeform gradient

You can change the line to follow a curve

Global Edit

Quick actions > Start global edit
Master the Pen Tool in 30 Minutes | Photoshop In-Depth Tutorial
Everything in Pen tool is a vector

Use P 

Vectors do not pixelate but rasters do 

What is a path

How to make a curve

Click and drag

Move the handle to determine the degree of the curve

Longer handle = greater intensity of degree

Also influences the next curve

Have two handles so not sharp

Delete the handle by holding alt and moving it or deleting it or brin

Alt does convert point tool, corners to curves and curves to corners

Holding alt key breaks the angle, then with control you can move it

Freeform pen tool

Adds points, convert point tool is alt

Using pen makes it show up in paths

How to fill?

Go to layers panel and click on solid color in gradient half circle effects to create a shape

A shape is just a path with fill
How to Improve UI/UX Design Skills | 5 Quick Tips
Plan hierarchy of project 
Plan hierarchy and flow through mockups on paper, figma, miro
Accessible navigation

Simple, easy to use navigation

Back or close icons on screens, accessibility is important

Clear dialogue

Advise on good practices, just good reading text visually and in terms of dialogue

User feedback

Loading on a button

Hover cues

Gives user idea of things happening

User testing

Don't worry about optimal test group right away

Do initial testing, then make a decision
What is the difference between UX, UI, product, visual, graphic, interaction design?
Product design

Designer owns the product from beginning to end

Refers to apps and software

Responsible for UI, UX

Animation, prototyping, coding, research, visual, and interaction design

Know when to develop hi fi mockups, animate and prototype

Know how to communicate ideas

Setting up wordpress, not too much code, but a little HTML is useful

Own everything from concepts to hi fi prototypes

UI

UX
User flow tutorial | How I use them in design projects 
What is a user flow?

A series of actions a user takes to achieve their goal

Ask three questions

1. Who is the user

What is their goal

What are the steps the user needs to take to achieve that goal?

Why do designers use user flows? Why are they valuable?

A method to communicate designs from the perspective of the user

What do user flows look like? How do I create them?

The bigger the product, the more time  spent

Can be a combo of 

1. Task flows

Wireflows (lofi)

Screen flows (hifi)
user 

Mapping out the task flow

How would the user access the feature? Where does the feature live?

Call to action

Shopper must know how much is eligible for payment

Transfer the available amount to 

Competitive analysis

Look at venmo, cash, uber, lyft and looking at instant payment feature

Now map out the wireflow along the task flow

Then use overflow or figma to create a higher fidelity