Logo Animation
I was working on this logo animation training to test it out and provide feedback to the creator (Miguel). The motion of the logo needs to strengthen the word of the logo. I decided to use my last name and have it be the motion of opening a cork bottle of wine, my last name is CORKer — get it? Anyways it was simple in theory but the execution was a little hard because I needed to work on how to do a 360 degree turn and how to wave adjust the motions so they aren't jumpy. As for things to improve on myself: I feel like it still is a bit too stiff. I would have liked to do a more flowy fill of the darker purple to imitate liquid swishing instead of a flat line. Maybe add like a texture to the darker purple that's supposed to be liquid or like sparkles in the 'wine'? I didn't know how I should go about those things.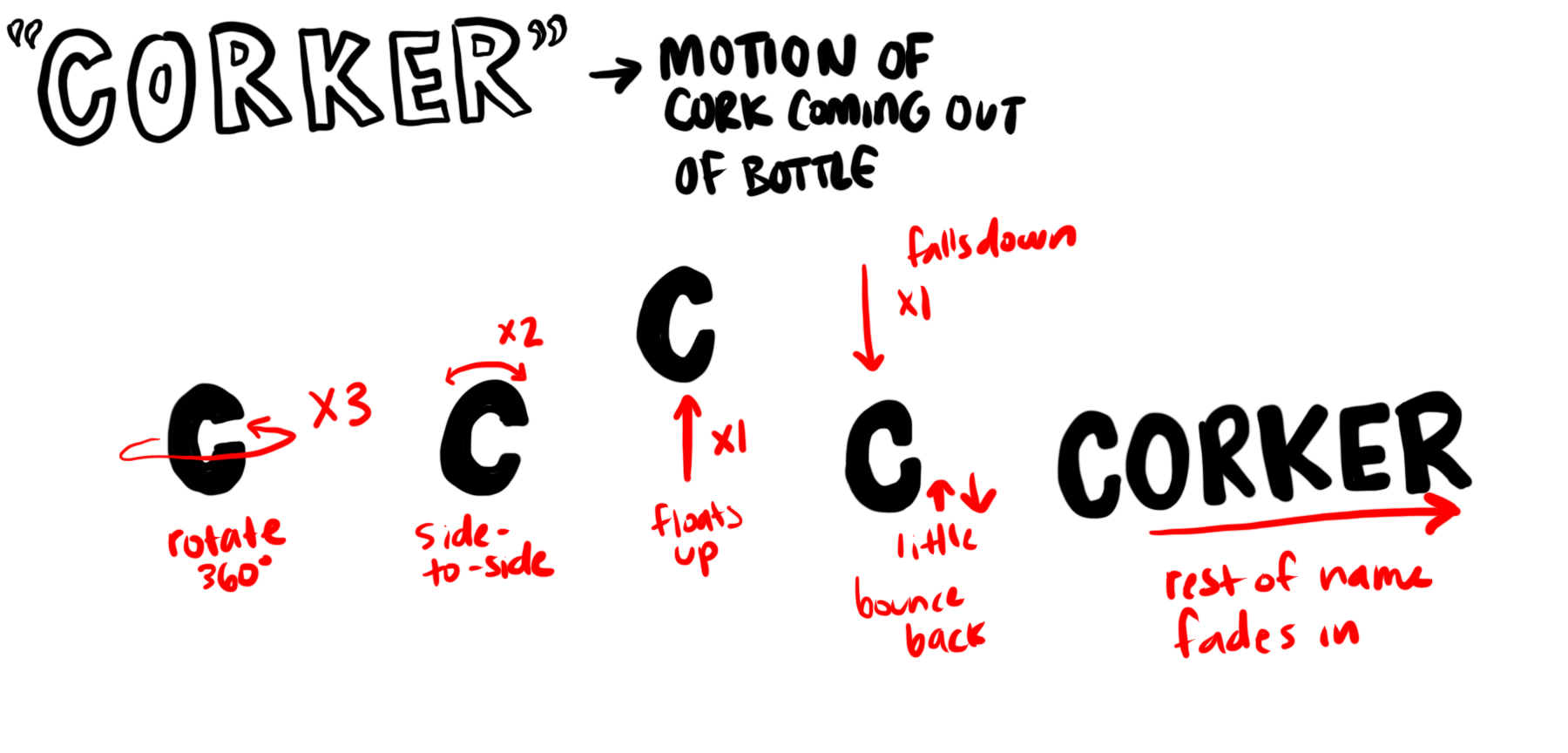 Here was all my feedback on the training following the questions Angie wrote up:
What I have reflected on so far:
Introduction:
Does the introduction of the KB tell the purpose of the assignment?
yes – but I think there could be clarification on the type of logo we are making. From our own name like personal branding, from our logo training, or a fake company?
Does the KB post clarify what software/applications you will be using?
yes
Does the KB post clarify what skills you will be learning/ show what final product you will be learning to create?
Doesn't clarify skills at the beginning but it does show the final product
At an initial glance, is the structure of the KB training easy to follow? Is there too much text- too wordy? Are there not enough pictures?
Yes not too wordy. The videos are good enough. It would be cute to pull out maybe 3 gifs of strong examples before the youtube links or up at the top. By strong I mean ones where the motion of the graphic really matched the branding and purpose.
Is there anything noticeably missing from the KB post?
Not yet
What does the KB training ask me to do? How is it testing me to apply what I have learned?
It is asking me to use AI which I have used before for making a logo. It is asking me to animate which I've done with the course graphics training. This exercise is now having me combine the two. I've done PS to AE but haven't down Ai to AE yet. I also have to consider how to tie motion to my logo in a way that strengths the cohesiveness of the design so that's a good mental design decision making and brainstorming exercise.
Are there any specific steps that are difficult to follow along with?
Not understanding why my vectors are overlapping the way they are when they are being inserted.
Do I broadly understand the instructions?
Yes
(If applicable) Am I provided all the necessary resources to follow this training assignment?
To an extent, I am provided steps I need to set up and to export, the actual building up of it is a bit kind of just a figure it out for yourself as you go thing. It's understandable though because there would be way too much to insert. I think some type of pre-made youtube playlist of quick animation tutorials might help or like a list format with a bit more than what the training has might help. Even just like a check out these youtube channels for more tutorials kinda thing would be a bit more helpful.
3. After completing the training, share your final results below for the STA author to critique. Try and also provide some reflections to the trainer on your experience taking the KB training.
Do I understand the purpose and application of this training?
Yes I did.
How long did it take to complete this training? Was this amount of time appropriate for the task?
It took me a while but that's because I am awful at it but I can see other STAs doing this much faster, others doing it as slow as I did. I think it will mostly depend on our experience but it sits in the middle and is not lengthy in it's parameters and what it is asking us to do.
Was I able to implement the new skill that I have learned AND/OR was I able to make the desired product?
Yes I implemented a new skill of 360 rotations and curving motions to be less jumpy. I made *almost* my desired product there are a few lil things I didn't know how to do but I got pretty close.
Does my final product look like what the KB training is asking for? Does my final product need many changes based on feedback from the STA trainer?
Yes is looks like what is being asked. I don't know Miguels feedback yet.
Is the difficulty of this training appropriate for its placement within the KB hierarchy? (Was this KB too hard/easy as an intro/required, supplemental, or optional training assignment?)
It is a good stepping stone between logo training and motion course graphics and some other advance one for the future. I would say intermediate.