This week I mainly worked on After Effects training. I was able to get my animation finished and here are the results! I had to look up tutorials online for how to make the paper texture "move" and I'd say it turned out pretty good.
I also worked on giving feedback to my PSD Character Design Training. Had to make an update to it and add this image to the bottom of both so I did that.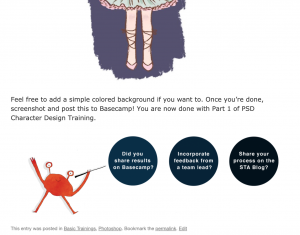 The last thing I did (today) was get started on the Infographic training. I posted to Basecamp already about what fonts and color schemes I was thinking of using. And after making this post, going to continue working on gathering the information and sketching out a layout.