So here it is. Today is my last day as a Design STA. It hasn't quite sunken in yet and I've been distracting myself from writing this post.
It's been such a beautiful experience working here. I truly enjoyed working with each person in the STA program, and I've grown a lot in the year that I've been here. I've grown a lot as an artist, as a designer, and as a person. I'm so grateful for Chloe for introducing me to this program and for helping me get to where I am today. The folks I have met at my time here have been amazing and I'm so appreciative and grateful for their existence. I'm so thankful for my fellow STAs for tolerating me and for teaching me and humoring my questions. Everyone has impacted me so immensely and my life is all the more better for it. If any of my fellow STAs are reading this, know that I am misty-eyed right now and that I'm so glad that you all exist. From the bottom of my heart, thank you so much for being a part of this period of my life.
And I am going to always be eternally grateful to Suloni. I've been so spoiled, truly. One can only dream of having such a caring and kind and wonderful manager. Suloni has curated a space that is fun, but also enriching and challenging. I am so grateful for her and all that she does for everyone in the program. Suloni, if you are reading this, thank you so much. Your thoughtfulness and kindness and expertise has influenced me greatly. Thank you so much for granting me the opportunity to work here.
My experience here at LAITS has been amazing. I really do love everyone who I've met through this program and I'm grateful to them. I will carry my memories of my time here at LAITS always and forever. I hope that my growth here at LAITS will carry on in all my future endeavors. I hope to become a medical illustrator someday and the skills I've picked up from being a design STA have certainly made a stronger, more well rounded student, graduate applicant, and human being. I am forever grateful. Thank you.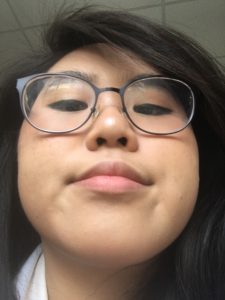 For fear of this post being too sappy, here is an image of me on my last day. I hope you got a chuckle out of this selfie.