Today, the fellow STA ladies took a trip to check out Ellsworth Kelly's "Austin" at the Blanton Museum. The weather was just perfect, and we had a great time exploring the art that represents the beauty of our city. Let's jump into our field trip !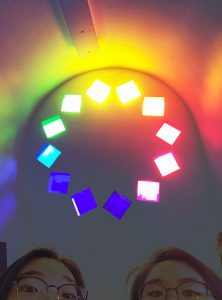 This was my second time visiting "Austin," and I was reminded of how amusing it was to see the way light plays with the stained glass, as well as the 14 marble panels that were imported all the way from Italy – the same marbles used by Michelangelo!!!
We then went inside the Blanton Museum to check out Jeffrey Gibson's This is the Day exhibit. His use of beads, punching bags, paintings, garments, and other daily objects worked well with the exuberant colors, patterns, and materials with text. I love museums!!