Few weeks later, I am finally done with the seashore watercolor background!! I colored in the birch trees and fixed some of the other colors (for the water) by using color overlay: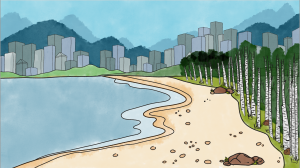 I also fixed the homepage banner for RUS412 – I darkened the background so that you can really see the christmas lights hanging, as well as an intensified focus on the characters: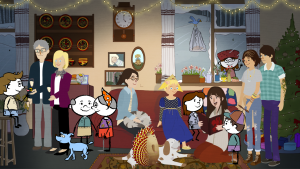 I also got another watercolor background assignment from Tate. This time, I had to re-do the airport scene. It was really fun, and I unexpectedly finished it a little too ~early~ because I was being ~too efficient~ haha!!… I am now waiting for another assignment from either Kathy/ Tate.