Last week, I worked on various projects. I finally finished my first draft of "This is Democracy" podcast art:
I also worked on the Tec slides for Bridget with Suloni:
I also worked on my RUS412 illustration test that Kathy assigned to me. It's been a while since I've drawn an illustration for the RUS class, but I knew as soon as I started the assignment how much I've missed it! I can't wait to help Kathy on the illustration projects. Here's the illustration I drew for our "test":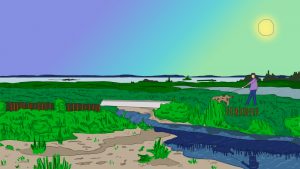 I also helped with some Cascade projects for faculty/ staff – this one was for replacing the Economics department banner. I am getting the hang of how to navigate through cascade, and hopefully, I'll be ready with the other STA's to help faculty and staff be more familiar with the navigation, also. We are planning on holding a training (?) day for one of the professors and her team. I have a lot to learn before then!