Hiya, the name's Esther Shin!
This is my third day working here ( didn't make a post until now) so I'm going to update you on what I did so far!
I made my banner and avatar on Photoshop and did ! It was fun to doodle around and draw myself (something I haven't done in a while).
On my first day, I worked on designing my banner. I knew it had to be doodle-like and pink haha, so I started using the tablet and drew some things I liked. Cleaned it up, saved it as a png, then uploaded to this blog!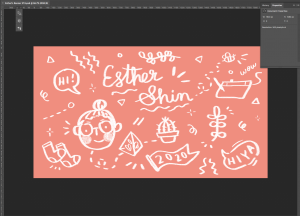 Then, on the second day, I started to design my avatar for both basecamp and for the blog site 🙂 ! Like most of my drawings I start doodling around until I draw something I like.
I ended up liking my drawing of me riding a skateboard (even though irl I don't) wearing my favorite comfy outfit, consisting of a bright/weird/favorite sweater I own and some gray sweatpants haha. Here's the final product!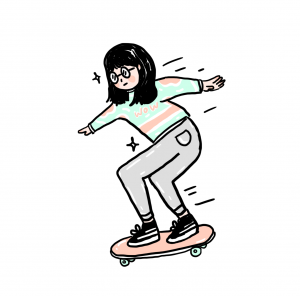 wow! wish I looked like this in real life
Anyway~ I'm super excited to start working on projects and assignments since orientation is almost over, hoping I get more into animation and other things hehe!!