Hi y'all! I am very excited to have my first day/week as a Design STA! I am transferring from the Project Management Team where I worked with an awesome team to ensure all the projects are completed without a hitch. I am looking forward to meeting all my new coworkers and working along side y'all! As well as get more experienced in illustrator, photoshop, and Adobe in general!
This is what I've worked on so far for my first week!
STA Self-Portrait
Start: August 22, 2023
Completed by: August 24, 2023
I haven't drawn a person in a long time, so this assignment though a bit challenging, was very entertaining. Whenever I draw or paint a person I like to play around with shades, textures, and the different colors I can use. So with that said, the part that I enjoyed the most was painting the clothes and hair. Drawing clothing with shades, made me happy as I was getting back into drawing. I also chose this specific clothing because I find it to be the outfit that I usually wear the most.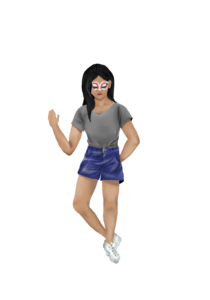 STA Banner
Start: August 21, 2023
Completed by: August 22, 2023
I have always been into painting flowers, specifically roses, so I took my past paintings of them and then used them to create my banner. I thought it really went with my aesthetic so arranged in them in the center and to make them pop, I made the background black and added a some texture. For the font, I decided to go with a cursive font and different colors for my name and major.

Here is what I worked on my first day:
STA Handbook PPT
Start: August 21, 2023
Completed By: August 21, 2023
I started off the orientation by designing a powerpoint of 5 rules from the handbook. I decided I wanted cool, soft tone colors for my background so I went with blue and purple. Here's is my work: