Week 21
Project: HTML Live Website
Started on: Mar 24, 2022
Completed on: Mar 24, 2022
Staff Guidance: Maddy, Stacy
Description: For this project, I made edits to the design and apply the changes to the HTML Live Website. I eliminated the paper texture and thought about different content I can add to the site including the introduction to LAITS, STA Program and Agenda of the presentation and STA Presenters.
Figma Design: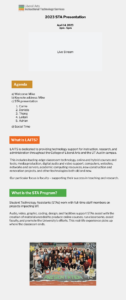 Real Site:
Project: STA Presentation 
Started on: Mar 23, 2022
Completed on: Mar 24, 2022
Staff Guidance: Stacy
Description: For this project, I made Powerpoint Presentation and made changes to the script. I added visual help for the Powerpoint and I added some content to the script as well as cut out some other content.