Week 11
Developmental Cognitive Neuroscience Lab
Project: Developmental Cognitive Neuroscience Lab Website
Client/Prof: Department of Psychology
Started on: March 29, 2023
Completion status: In progress
Staff guidance: Stacy Vlasits, Marianne
Description/plans: Move the content from the current existing lab website to an updated theme.
In this project I will help move the content from the Developmental Cognitive Neuroscience Lab websites to a new theme that Marianne created.
This is the theme of the current website and it has been the same for the past ten years! See, the LAITS logo used here is also old.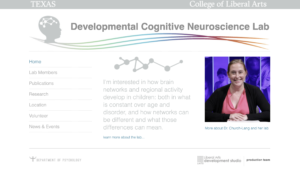 This is the new theme that Marianne created. It has the update Department of Psychology logo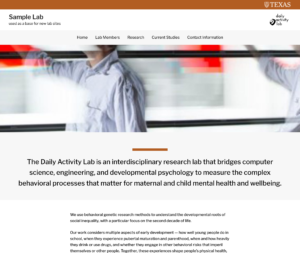 As I was doing this migration I realized that the menu on the original website is different than the one for the sample website so I created more sections on the header in the template.
One styling issue that I am currently stuck on is whether to create a completely new section for some content that could be a subsection of an already existing section in the new template or just add the heading.
I tested to see how the look of having all the headings as they are in the original website would look like along with's Marianne's theme.