Week 18
GSD Course Promo Flyer
Project: GSD Course Promo Flyer
Client /Prof: Germanic studies
Completion status: TBD
Staff guidance: Maddy, Valerie & Adrian
Description/plans: Germanic studies have requested a batch of course posters, so we're using templates. Some of the posters have photo assets provided; choose 1-2 that look good together, collage if necessary but keep it simple! If assets aren't provided, find something relevant to the course.
EUS 305
The description of the course was quite brief so I wasn't sure what kind of images would best suit this flyer. I've since received feedback from Adrian that "professors prefer newer 'cleaner' graphics when the topic is open-ended" He suggested looking into political maps of Europe or some EU-related symbol.
EUS 305: Final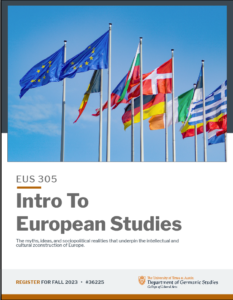 GSD 341S
Although this triptych seems a little jarring at first glance, it's very direct about the progression from print to film. Tbh I would love to see how we got from a print and press to Heidi Klum on Germany's Next Top Model.
GSD 361P
There was a lot of back and forth about what kind of picture should be placed on the right (2014 world cup, 1936 Olympics, etc.)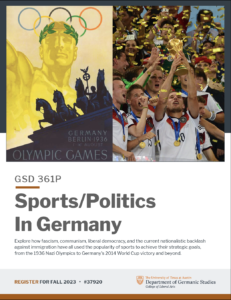 STA Photo Cutouts
I started cutting out some STA photos but the ones I've completed are also design STAs and I do not want to put a giant pic of their face on my blog in case they don't want that LOL