Week 10
Project: French Connexion
Start: Oct 21th 2022
To be Completed: N/A
Staff Guidance: Maddy
Link to UTFC Website: https://frenchconnexions.net/
This week I schedule meeting with Marianne to talk about how to implement my design better into the web development.
Project: CTX Retold
Start: September 21th 2022
To be Completed: N/A
Staff Guidance: Maddy
I continue to update the design due to the new feedback from Celeste.
Changes:
Body Font: Lato, Extra Bold
Quote Font: DM Serif Display
New Maroon Color: #881A1D
Black Background Color: #313131 + #000000 banner color
Project: Beyond Sweatt v Painter Presentation
Start: Oct 21th 2022
To be Completed: N/A
Staff Guidance: Maddy
This project is to redesign the powerpoint for Beyond Sweatt v Painter Presentation for Olivia Muna with the consistent typography and color palette choice. Since there are lots of historical documents insert into the powerpoint, we decided to highlight on the important texts and create a clearer and bigger typed-text block for better understanding. We also minimized the number of the documents that showed on one page so the audience are able to focus better. At the same time, we insert the photos of either author or related figures for the documents to ensure the storytelling.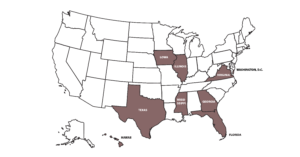 Project: Green Screen 8.3B
Start: Nov 14th 2022
To be Completed: Dec 1st 2022
Staff Guidance: Yazz and De'sha
I was asked to find pictures of foods and drinks for the UTFC projects, prioritizing pictures from Antananarivo and Madagascar.
UTFC Green Screen 8.3B Food and Drink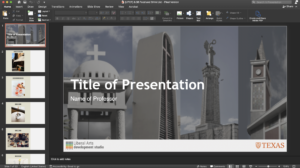 Project: Elements and Principles of Design
Start: Oct 20th 2022
To be Completed: Nov 15th
Elements and Principles of Design
I learned several design principles from this training:
Repetition
Rhythm (similar visual elements but the different distance and frequencies create joy)
Movement (arranging the composition in such a way that the objects lead the viewer's eye along a path)
Balance
Proportion/Scale
Negative Space
Contrast
Emphasis
Variety
Unity/Harmony (taking different elements in a composition and creating visual similarity by the way one arranges them)
Hierarchy
When I design, I should be careful with the rhythm, balance, proportion and unity.  In order to emphasize one visual element, I can utilize contrast, emphasis, hierarchy by changing color, size and volume. Movement and negative space can lead the viewer's eye and create excitement. One design work should consist of several design principles so the image would balanced and noticeable.