First week of school! This week has been a lot more toned-down now that most of the course graphics are done. I'm glad we were able to finish most of them by the start of the semester. I'm particularly proud of my work on NTR 306 Fundamentals of Nutrition, and I hope it gets put to good use this semester. I also learned about new software and skills over the course of these assignments. I feel a bit more confident about animating, but there's still so much to learn. Lastly on course graphics, I wasn't able to see my work in the studio, but here's a photo of what the GOV 310L monitor looked like in-person. One of my favorite parts of being a designer is seeing the work in use, so this is really exciting!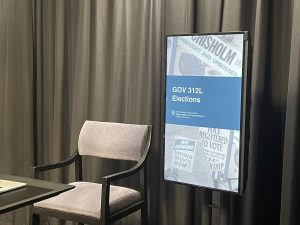 This week, I've been mostly working on the backlog of French class graphics that have been assigned to me. Most recently, I've been working on backdrops, which is pretty fun work.
That's my week so far! I'm excited to see what the semester will bring.