TBH: Site Explorer Page
Project: New Site Addition to the Site Explorer Page
Client: Steve Black & Emily McCuistion
Completion Status: In progress, early stages.
Staff Guidance: Suloni Robertson, Estella Sun, and the WebDev team
STA Team Members: Cristina (esa soy yo)
Description/Plans: To add "Hendrick and Ware Plantation" to the Site Explorer https://www.texasbeyondhistory.net/explorer.html This involves putting exhibit/place name and a locational dot on map on list, and then adding an image, a blurb, and timeline for the pop-up when exhibit selected.
This project has slowly been in the works for the past week, but basically I need to add a new spot (that being one of the sites we worked on from the Rusk County map project) into this other interactive map…
In order to do so, though, I need a lot more information than I was given. So to summarize what I need, I made the following annotated mockup to send the client a detailed list of things for them to send over. Take a look…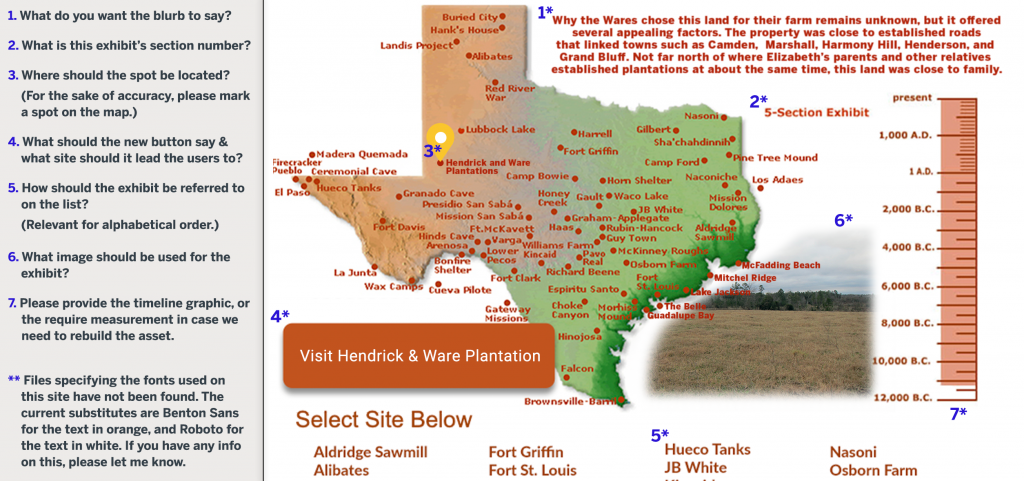 For now, and probably till we get back from Thanksgiving break, I'm waiting for them to send over these assets. Nonetheless, in the meantime I also worked on recreating two very important assets, those being the orange button, and the yellow pin. Why? Well, because no one has really worked on this project in a long time, and those files (at least the editable psd versions) were lost along the way.