Last week I worked on a couple of Basic Training including working on the Cascade Site, AI Shape Manipulation, InDesign Spread, and AI Logo.
For the AI Logo, I wanted to use the first initials of my first and last name, as well as my middle name. The shape I came up with was a tulip!
Next is my InDesign spread where we used images from the TV Show, "The Midnight Gospel". I've never worked in this program before so this was really fun for me. There are still some changes I need to make so I'll make sure to post about this again at the end of the week.
For the Cascade Site Training, I had to make an Accordion. I decided to make it about my favorite Filipino dessert/bread: Ensaimada. I also went the extra mile and added a video teaching you how to make them yourself :-).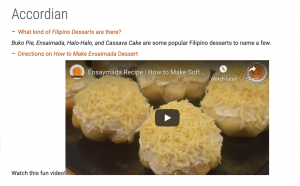 The last thing I did was the AI Shape Manipulation Training. Finished the edits I got from Thuy so I'm just waiting for feedback!