Sexing History Lesson Plans
Since my last post I have started working full time, mostly helping plan orientation for our new summer hires. There is a lot to prep training ~8 new STAs remotely but I'm excited to meet them and get started!
~
Other than that, I have been designing lesson plans for Sexing History, a podcast unearthing facts about sex and sexuality from the past. They want to offer lesson plans for teachers to teach in tandem with the podcast.
I wanted my design to reflect their brand, which utilizes a lot of vintage imagery. So, I opted for a serif font (Garamond) and some detailed page borders/lines to make it look more "traditional." Still, it needed to be scannable and easy to read, so I split it into two columns and created a system that bolds sources and tools when they are listed in-text. I could imagine a teacher printing this out and wanting to leave notes to them-self while teaching, so left big blank margins for them to do so. I did this work in InDesign and got a lot use out of its rulers and guides feature.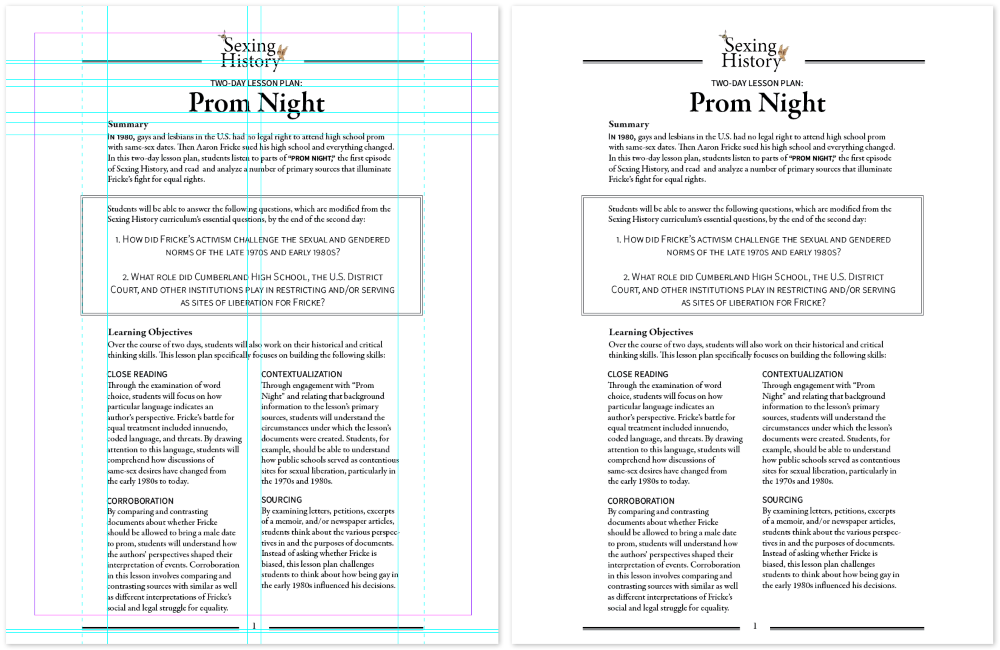 It is always tricky to lay out large blocks of provided text in a cohesive way, which is most evident on pages 4 and 5. When having to make tough cut-off decisions I opted to keep ideas together over visual design since the document is for practical use, and it being nicely designed is a perk, not necessary for teaching.