Wow! It's been a whole semester and what an eventful semester it was! Before leaving LAITS for the spring, I had secured a marketing internship at KMFA 89.5, and I was super excited to start.
KMFA 89.5 is Austin's classical music radio station. It's a small nonprofit with a small staff that's been operating for 40+ years. My favorite thing about working there was getting to meet everyone running the place. I was by far the youngest one there, so it was REALLY cool to learn about all kinds of radio things from these professionals who've been at it for years and years.
My supervisor was super cool too! He graduated from Rice with a masters in cello performance and played in a chamber group for a while before landing at KMFA. I played violin in orchestra for 8-9 years before college, so it was really nice getting to revisit those roots after not playing for several years.
My task as a marketing intern was to help out my supervisor, the marketing coordinator, with his tasks and come up with my own semester-long project.
One thing that I liked doing was "Media Scans". Every morning, I had to come in and research news that was going on in the classical arts world and send my supervisor interesting articles that could be used to social media. I learned a lot about classical music and all the various things that were going on both internationally and in Austin. I also did various other tasks such as compile weekly newsletters and draft social media posts.
My semester-long project was the main thing I worked on. It's actually quite funny because it really aligned with the kind of stuff I did right here at LAITS. So my project was to mock up a new design for KMFA's current website. It had a looooot of problems (especially in terms of navigation and overabundance of irrelevant information). I first went through the website and wrote down all of the things I wanted to fix right away, then I creataed a google feedback form to send to the rest of the staff. This form was my way of getting as much user input as I could to inform my design. What I ended up turning in was an Adobe XD prototype and a Website Design Audit that listed all of the issues I found with the current site.
Feedback Form:
Mockup: https://xd.adobe.com/view/b3abd3f5-8ad7-4d3c-5d5c-abec687abf08-c59a/?fullscreen&hints=off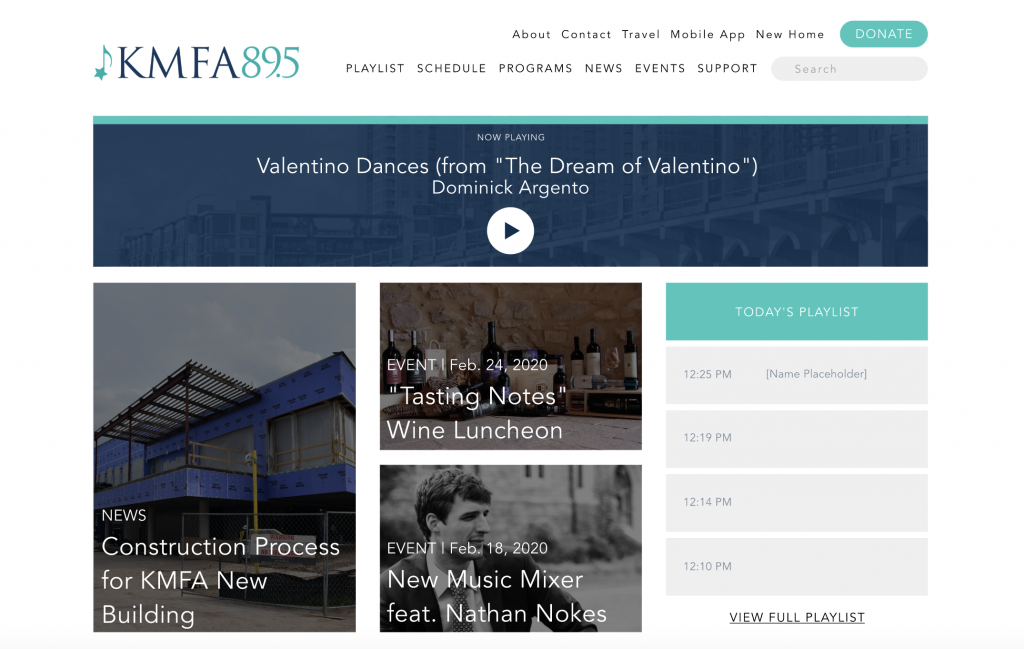 Original Site: https://www.kmfa.org/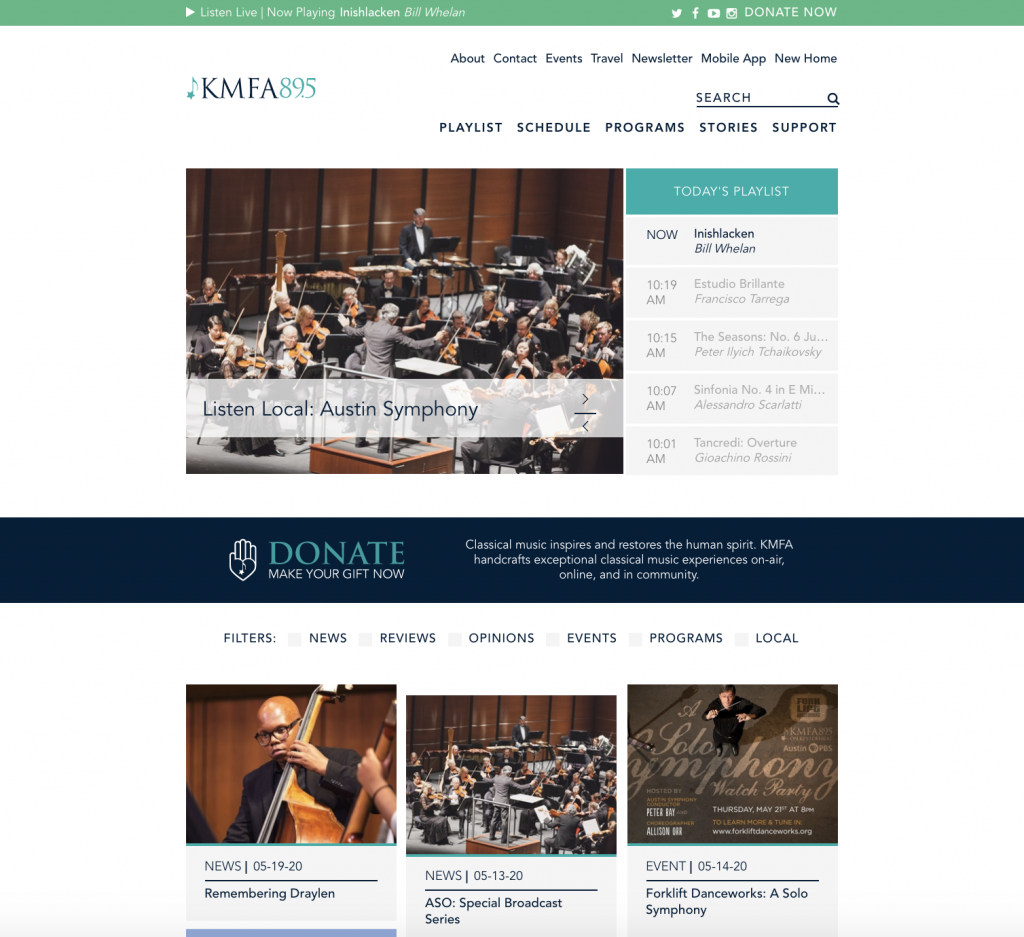 Due to the uh.. state of the world, my internship ended off kind of abruptly. I had to relocate back home to Houston and I ended up finishing the website design on my own. Normally, interns would have a project presentation at the end of the semester, but I didn't get to have that. Luckily, my supervisor suggested I come back in the fall to give it at their new building (Oh by the way, KMFA is moving to a new modern building).
Another thing I did this semester that I'm really proud of is a COVID-19 Relief Fundraiser! Me and my Bible Study group came up with the idea of collectively raising money for the pandemic. Everyone offered to do things like dares or silly tik-tok requests if people donated. All the proceeds we made went to an org called Modest Needs Foundation who gives emergency financial relief to lower income families in need.
I personally did drawing requests and I got 50 requests and raised over $500 just on my own!!! Collectively, we raised $2100+ for Modest Needs Foundation!!! It was such an amazing experience and I felt so honored that so many people liked my art (even people I didn't know reached out to me!)
Here are some examples:
This whole experience really gave me a lot of confidence in my art, and honestly, I can't believe the response I've gotten so far. Hopefully, I can keep doing similar fundraisers in the future. Using my art for good like this really heals the soul haha!
Anyway, that's what I've been up to this semester! It's been a crazy couple of months but I'm super stoked to be back 🙂