LACS Career Guides
It's been awhile since I updated my blog, so I'll try to summarize what I've been working on for the past month. The #1 project has been updating some of the pages on the Liberal Arts Career Services (LACS) site by converting some of the plain text into graphics.
I've been leading the project to create infographics for at least 12 of the LACS career guides, which are aimed at humanities grad students preparing for a career outside of school. I've been working with the client, Amy Vidor, to come up with a consistent style for all the infographics. We needed it to be monochromatic, and Suloni suggested rounding the corners on each of the blocks. I took the blue from the official UT color palette and reduced it to 40% and 15% opacity to get the lighter shades. This is what we settled on:
---
All of the subsequent infographics will have the same general layout (i.e., a section for background, pathways, and desired skills/experience). The only parts that need to be changed out will be the text and icons, which need to be original. From the advocacy infographic, I created a template for all the LACS infographics that includes the color palette, specs (padding, font size, etc.), and other useful information.
Here's where the template's located, and here's what it looks like: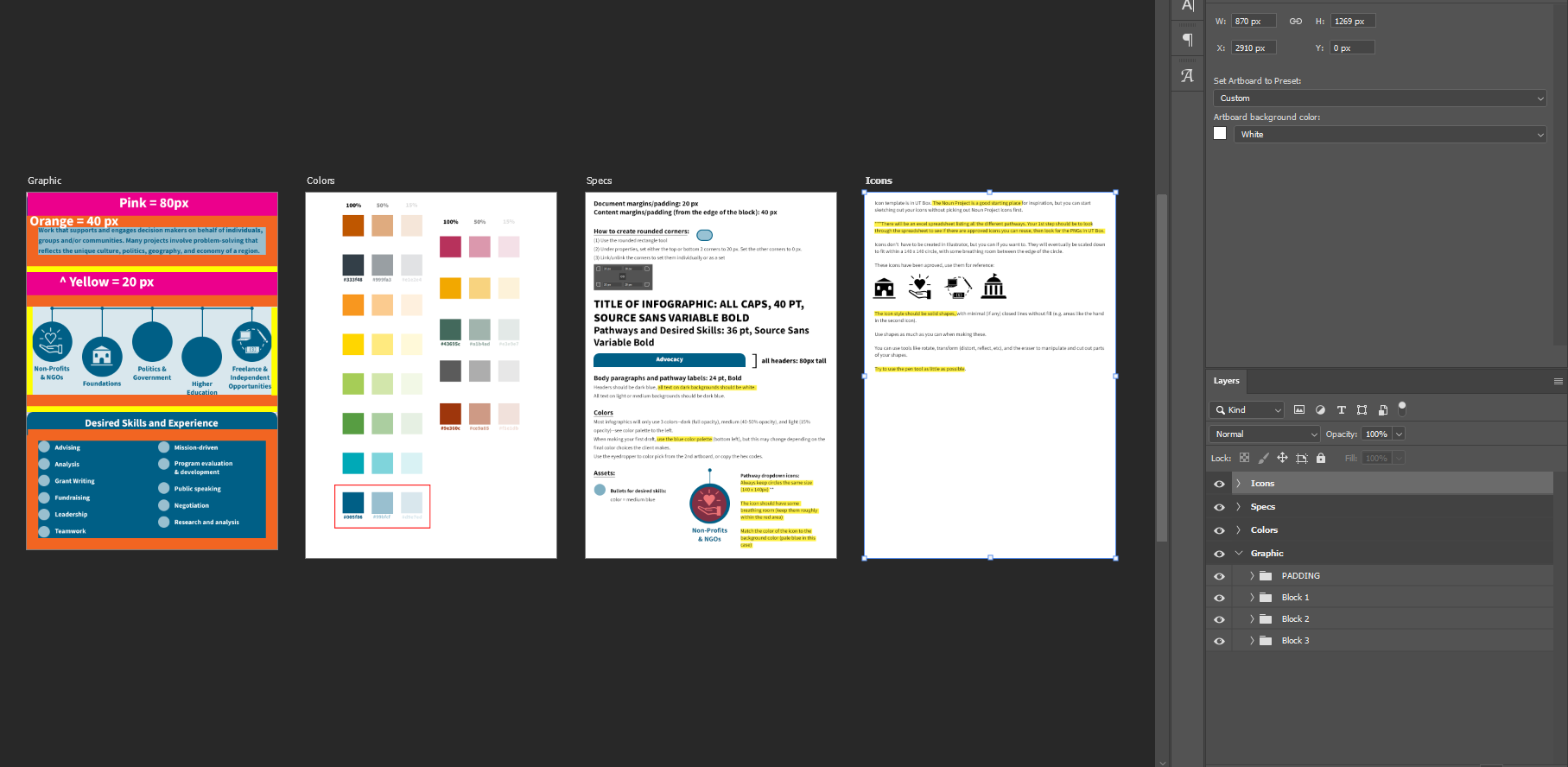 ---
Several STAs have already starting working on more infographics, and I've been trying to give feedback on their progress. We have a lot of original icons to make, so to make the process easier I made a spreadsheet to track all the icons that need to be made. This will hopefully keep us from making duplicate icons and make it easier to see which icons are being reused:
https://docs.google.com/spreadsheets/d/1rn05Y2paiIqVuF2tCvWbTOAiV9DEyUMy8ZSkHVmRgY8/edit#gid=0