Training – Color Wheel 'Mistake' :p
I continued with my Basic Training, and the description for creating a Color Wheel in Ai really captured me, so I decided to work on that.
For a little bit of context, I didn't really have any formal training in traditional or digital art, so I misunderstood the purpose of the assignment. Instead of exploring color theories and all that good stuff, I thought the assignment was to explore how the basic colors blended together create new colors :p. So my product turned out to be something completely off. Oops.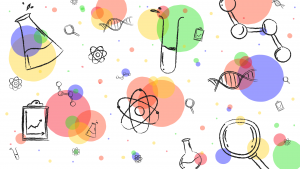 Suloni kindly complimented on the product, and clarified the purpose of the assignment for me (thank you Suloni!). So I'd just need to do some research on color wheel and color theories. Afterwards, I'd check in with her on my findings.
BUT, Suloni thought that the process of how I came up with the choice of style for the artwork above is interesting, and so she assigned me that task of creating a new STA training on defining artistic elements as they relate to different styles (specifically the distinction between digitally-made art and also-digitally-made-but-has-a-more-human-feel art 🙂 ).