It's been pretty slow since we got back from spring break, b u t! I have been working mostly on the upcoming STA presentation. I finally finished my keynote, and so all I have left is to master my presentation skills! (yep, I'm a noob)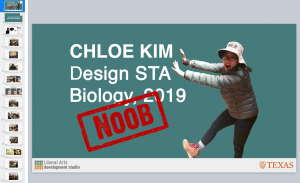 Just a personal update: Ya girl got her first freelancing gig (outside UT) !!!!! I've been contacted by this guy through my portfolio, and I ended up collaborating with him on scientific illustrations for this company in Switzerland for an article they are trying to publish. I was so happy that all the hard work and effort put into the textbook illustrations paid off in a way that allows me to keep growing as a graphic designer & illustrator. These are the 2 images I produced so far:
& not related to design/ graphics at all, I really felt the need to share the beauty of the Grand Canyon, Antelope Canyon, and Sedona with y'all (even though iPhone 7 camera don't do it justice) !! Everyone should visit Arizona !!