The past week, I have been doing bunch of things, including photo ID's, new RUS412 illustration + assets, training for Cavassar + vlabs stuff, and also AIH banner design.
<photo ID's>
There have been some problems with Qualtrics lately, and we've had some ~frustrated~ clients, but Suloni and the STA's have been patiently walking them through the process! Communication is very, very important!
<RUS 412 Illustration & Animation Assets>
For the new illustrations for RUS412, we are changing things up a little bit. Kathy has asked us to make simple characters portraying certain emotions/movement/gesture, and my first assignment was on "toothache." It's been challenging, because I get nervous about drawing humans!!! So the first time I attempted at the assignment, some proportions were off and my style didn't match Kathy's: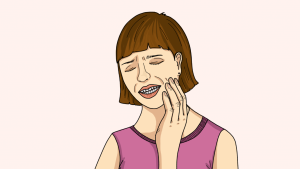 Kathy has kindly gave me suggestions as to how I could ~fix~ this illustration: "i think color-wise it's matching the style we're going for, but i think there's a bit too much detail in the face and hands. the proportions are looking a bit off, but i don't imagine it being a difficult fix! the hand's too big in comparison to the rest of the body, so if you could shrink the hand and remove the detail on the knuckles of the fingers, it'd look more in line with what we're going for! also, for the nose, maybe keep the nose bridge separate from the bottom of the nose and keep details on the face drawn with thinner lines. also i think drawing the lips is looking a bit too harsh. it's actually looking a bit too stylized at the moment! i quickly roughed out what it might look like with the proportions fixed + more subtle details so you can get a better idea of what direction you should be going in."
So… here's my final product after making the adustments! Wahoo!
I have also finished coloring in the knife set from last time for the RUS animation assets: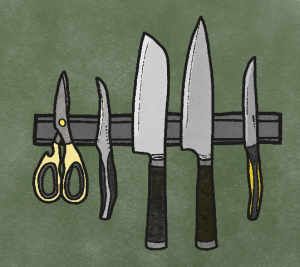 <AIH banner>
As for AIH, I don't think Stacy is looking for a specific banner design. So I came up with a quick rough draft just to see if I was going in the right direction. Suloni has suggested some adjustments I could make, but this is what I have so far!