Few things I worked on:
Helped Marla & Suloni with her big ppt presentation coming up! Mostly organizing things and adding animation features to the content in the slides.
Another RUS 407 illustration, this time U14_5:
As usual, I started out with my sketch to get the composition: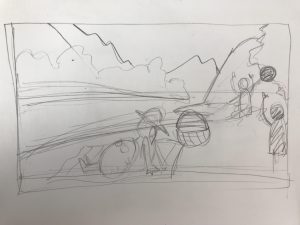 First draft:
Final draft – toned down the pebble-y sand from the first draft, put more volume into the trees and the mountains, made the water look more transparent and ~flowy~, and drew the appropriate clothing for each characters!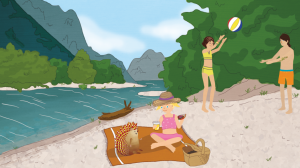 **I also worked on the photo ID re-organization assigned by Aidan, trained Esther for her new STA orientation, and worked on a powerpoint reformatting for PSY306.