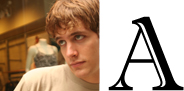 ndrew King was born in Kilgore, Texas, in the Chinese year of the Rat. He was raised in Lubbock, Texas. There he learned various art forms, including the art of filmmaking, graphic design, and the art of coping with incredible boredom. He used his graphic design knowledge and his lack of having anything better to do to work at a local sign shop designing logos and signs. After turning the small sign shop into a multi-million dollar conglomerate, he moved to Austin to major in Film at UT.
Now, as a Student Technology Assistant in the LAITS department, Andrew employs his experience as a graphic artist and film student to make professors' dreams come true with awesome drawings and amazing videos. His stellar personality and charming presence consistently enhance the lives of his clients, co-workers, employers, schoolmates, neighbors, passersby, government officials, celebrities, and world leaders.
In his free time, Andrew watches movies, drinks Dr Pepper, and hangs out with the love of his life (not the Dr Pepper, his wife). He also enjoys playing racquetball and writing humble, non-pretentious autobiographies.